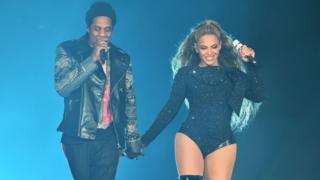 It has been rumoured for a while but now it's here – Beyonce and Jay-Z have dropped a joint album.
It's called Everything is Love and is only available to download on Jay-Z's streaming service Tidal.
Bey made the announcement on stage in London as they thanked their fans for coming to watch their global tour.
She said: "Because we love you all so much we have something special for you."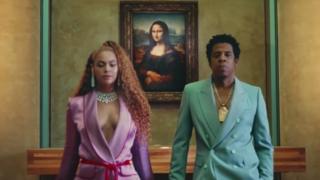 A video was then played on the screens which ended with a black slate with the message 'ALBUM OUT NOW'.
A six minute video was released alongside the album.
It's very elaborate in true Bey and Jay style and was filmed inside the Louvre museum in Paris.
It starts with the couple standing regally in front of the Mona Lisa – Jay-Z in a light green double-breasted suit, Beyonce in a lavender suit.
Warning: This article contains language some may find offensive.

This is their first album together and it has been described as celebrating their marriage and black identity.
On Beyonce's last solo album Lemonade in 2016 she talked about infidelity.
A year later Jay-Z asked for forgiveness on his own album 4:44.
Fans are loving the announcement and the video.

Lots of people are so impressed they managed to film their video in one of the most famous museums in the world.

But some fans aren't happy you can only get the album on Tidal.


In this nine track album the couple don't just talk about their relationship, they also mention, President Trump.
Jay-Z raps: "Your president tweeting about Hov like he knows us, my road to the top was to take what you owe us."
He also says he turned down an offer to perform at the Super Bowl.
"I said no to the Super Bowl, you need me, I don't need you."
The rapper has shown his support for Colin Kaepernick, the now-unemployed NFL quarterback.
He started kneeling at games during the national anthem in a protest about racial injustice in the US.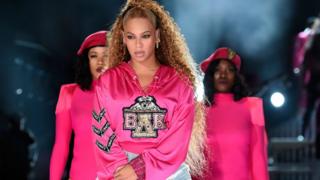 Some believe that Beyonce dropped a hint that the album was coming at her Coachella performance.
During a countdown she made a 6 and 3 with her fingers.
The joint album was then released 63 days later.
In November 2017, Jay-Z told the New York Times that he and Beyoncé had started working on something as they produced their own separate albums 4:44 and Lemonade.
"We were using our art almost like a therapy session," he said.
Follow Newsbeat on Instagram, Facebook and Twitter.
Listen to Newsbeat live at 12:45 and 17:45 every weekday on BBC Radio 1 and 1Xtra – if you miss us you can listen back here.
BBC News Source Link
Brought to you by Planet Genius
If You Liked This Article, Join our Newsletter To Receive More Great Articles