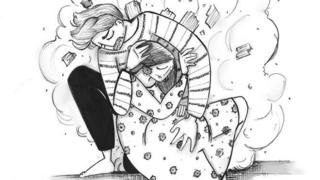 Friends sitting round a Christmas tree, two long-distance lovers talking on the phone, a man fixing the internet connection for his partner.
At first glance, some of Dima Nachawi's illustrations could show couples from almost anywhere in the world – but the rest of the collection tells a very different story; of air strikes, injuries and death.
These pictures illustrate how real people live – and love – in Eastern Ghouta, an area of Syria where conditions have been described as "hell on earth" by UN Secretary General Antonio Guterres.
"They [the residents] still live their daily lives, they still fall in love and try to protect their beloved ones," says Dima.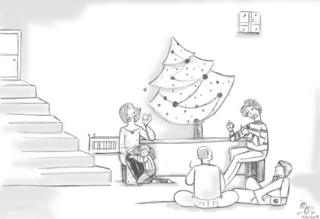 Dima grew up in Syria, but left the country a number of years ago and now lives in Beirut, where she has a career as an artist.
She has worked on a variety of creative projects, looking at the situation in Syria.
This "Love is…" collection, published on social media, shows real people and and the effect the conflict has had on their relationships.
Each illustration depicts a different, anonymous couple and Dima only reveals a few details about the people she draws.
"This project was very difficult, especially the one in which the woman died," she says, describing the image below.
"I was imagining how the illustration was going to look but at the same time it weighed very heavy on my heart.
"It's very difficult to illustrate something that has an unhappy ending."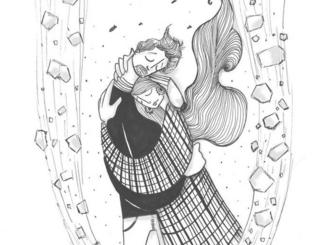 "But I was also grateful that I had this chance to reflect on the other lives of the Syrians, where they survive, they love, they are not victims, they are people that can take action and they have agency.
"This is what I want to reflect through my illustrations."
Residents are reported to be fleeing the rebel-held Eastern Ghouta enclave as the situation there was described as "beyond critical".
Some aid has been able to reach the rebel-held area but charities say much more is needed.
More than 700 people have been killed in recent weeks, many of them children.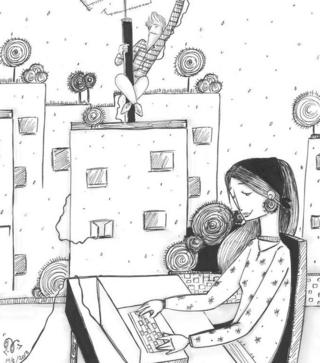 Dima is critical of the way the international media portrays the people of Syria.
"On the human level, we are stereotyped as refugees and victims," she says.
"I prefer to talk to people [in Syria] to see how they're doing in their daily life and how they are trying to live and survive."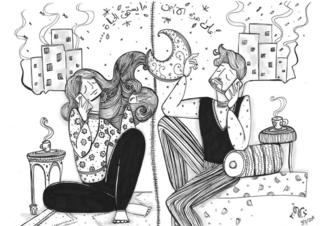 Dima says she finds it "very difficult" to watch the conflict from afar.
"Every time I feel bad, I try to do something. I know that I have followers all around the world and I'm conveying a message, telling those people something that they don't know about Syria.
"I try through illustration and art to do something about it and maybe I can't massively change the current situation but I know that my illustrations are preserving something for the cultural memory, for the next generation to see and know what happened."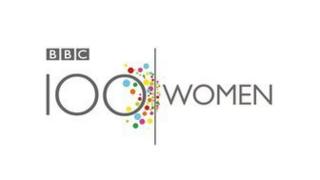 What is 100 Women?
BBC 100 Women names 100 influential and inspirational women around the world every year and shares their stories. Find us on Facebook, Instagram and Twitter and use #100Women
Other stories you might like:
The female protesters against giving women the vote
'Why I invented the glass ceiling phrase'
100 Women Challenge highlights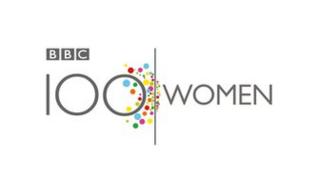 What is 100 Women?
BBC 100 Women names 100 influential and inspirational women around the world every year. We create documentaries, features and interviews about their lives, giving more space for stories that put women at the centre.
On 8 March, BBC 100 Women will be showcasing inspirational stories from women in the UK and across the world.
Follow BBC 100 Women on Instagram and Facebook and join the conversation.
BBC News Source Link
Brought to you by Planet Genius
If You Liked This Article, Join our Newsletter To Receive More Great Articles