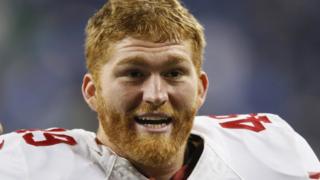 American football team the San Francisco 49ers has sacked fullback Bruce Miller after he was arrested on suspicion of assault, US media report.
Mr Miller, 29, was detained in connection with an alleged attack on a 70-year-old man and his son.
Both men were reported to have needed hospital treatment.
The incident is said to have happened at a hotel in San Francisco's Fisherman's Wharf district on Sunday night.
Broadcaster KTVU in San Francisco reported that an altercation had taken place over a hotel room.
A brief statement issued by the team said: "The San Francisco 49ers on Monday announced they have released FB (fullback) Bruce Miller."
Mr Miller, who is 6ft 2in (1.52m) tall and weighs 248lb (112kg), has been with the 49ers since 2011.
His sacking comes amid another controversy surrounding a player from the same team.
San Francisco 49ers quarterback Colin Kaepernick provoked a storm of criticism when he refused to stand for the national anthem to protest against racial injustice.
On Monday, US President Barack Obama defended Mr Kaepernick's right to snub the anthem, saying he was making a point.
BBC News Source Link
Brought to you by Planet Genius
If You Liked This Article, Join our Newsletter To Receive More Great Articles