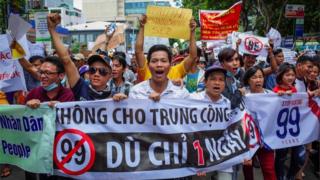 An American is being held for "disrupting public order" in Vietnam after joining recent economic protests.
Will Nguyen, 32, was detained on Sunday in Ho Chi Minh City during demonstrations against new economic zones in the country.
Protesters believe the law is a means to grant Chinese companies lengthy leases on Vietnamese land.
Foreign ministry spokesperson Le Thi Thu Hang told reporters a consular visit is being arranged.
Authorities detained more than 100 people as demonstrations against the law turned violent, with rocks and petrol bombs thrown.
Mr Nguyen, a Texas-born Yale graduate, joined the protests on Saturday, tweeting a number of images of the march through Ho Chi Minh City.
In another post, Mr Nguyen wrote about "how enormous of an achievement" the demonstrations are for the Vietnamese people.
The student, who is set to receive a master's degree in Singapore next month, was visiting Vietnam when he began documenting the demonstrations.
According to his family and friends, Mr Nguyen was "beaten over the head and dragged into the back of a police truck".
He was then taken to a police station, but his current location is unknown.
Officers reportedly turned up at his Airbnb rented flat two days later to confiscate his belongings, including his laptop, passport and credit cards.
A spokesperson for the US embassy in Hanoi told the New York Times it was "aware of media reports" of Mr Nguyen's detention, and that when a US citizen is held overseas "the US Department of State works to provide all appropriate consular assistance".
Mr Nguyen's family fled South Vietnam after its collapse in 1975, and he recently wrote an article about the country's division for website New Naratif.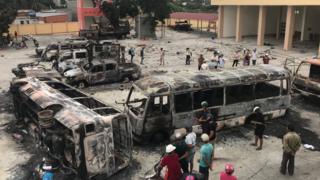 The proposed economic law would give foreign investors 99-year leases on land in three designated special economic zones across the country.
Protesters believe the government is using the bill as a way to give Chinese companies a hold on Vietnamese land.
Vietnam contests Chinese control of a number of islands in the South China Sea, and the two countries fought a brief border war less than 40 years ago.
Demonstrators also object to a draft cyber security law, a bill the US embassy in Vietnam has criticised in a statement.
Some of the protests were explicitly anti-Chinese, with one banner reading: "No leasing land to China even for one day."
There were previously protests in Vietnam in 2014, which saw Chinese citizens fled the country in their thousands after violence targeting foreign-owned businesses.
BBC News Source Link
Brought to you by Planet Genius
If You Liked This Article, Join our Newsletter To Receive More Great Articles