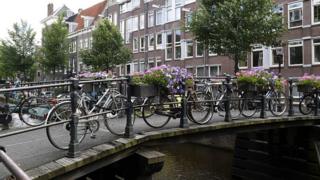 Amsterdam has won a vote to host the European Medicines Agency (EMA) which will relocate from London after the UK leaves the European Union.
The UK is losing both the EMA and the European Banking Authority (EBA) which employ around 1,000 people.
Ministers from the 27 EU countries remaining in the bloc after the UK departs in 2019 have taken part in the secret ballot.
They will now vote later on the new home for the EBA.
Some 16 cities bid for the EMA, while eight want to host the EBA – Brussels, Dublin, Frankfurt, Paris, Prague, Luxembourg City, Vienna and Warsaw.
The EMA is the more alluring of the two bodies, as it promises to make its new host into a hub for Europe's medical industry.
The city that won the EMA must then drop out of the running for the banking authority.
Slovakia had been campaigning hard to make the case for relocating the EMA to Bratislava. Following its failure to win, diplomats say Slovakia may seek to cushion the blow by seeking support for its finance minister becoming chair of the Eurogroup, which runs policy for the eurozone.
What is the EMA?
The European Medicines Agency evaluates and supervises medicines for both human and animal use
It helps national authorities authorise the sale of drugs across the EU's single market of some 500 million people
It has been based at Canary Wharf in east London since 1995 and has about 900 staff
What is the EBA?
The European Banking Authority guarantees financial stability in Europe, including the integrity of the EU's banking sector
Its 170-strong workforce is tasked with harmonising banking rules across the EU
Created in 2011, it is best known for its banking "stress tests" designed to test how well banks can withstand a possible repeat of the 2008 financial crisis
Its staff carried out 700 missions in member states last year, meaning its new host must have good air links
BBC News Source Link
Brought to you by Planet Genius
If You Liked This Article, Join our Newsletter To Receive More Great Articles