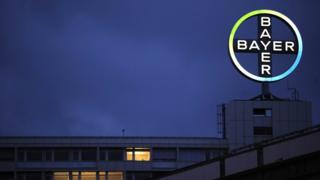 German drugs and chemicals company Bayer has made a $62bn (£43bn) offer for Monsanto, in a deal that would create the world's biggest agricultural supplier.
Bayer said the bid was a "compelling opportunity to create a global agriculture leader."
Monsanto is primarily known for genetically modified crops, often leading to vocal activist criticism.
The offer comes amid a wave of mergers in the industry.
Rivals Dow Chemical, DuPont and Syngenta have all announced tie-ups recently, although they have yet to be cleared by regulators.
Bayer said the offer of $122 per share represented a 37% premium on the price of Monsanto shares before rumours about the takeover bid emerged in the media.
"We have long respected Monsanto's business and share their vision to create an integrated business that we believe is capable of generating substantial value for both companies' shareholders," Bayer's chief executive Werner Baumann said in a statement.
Both companies had confirmed last week that they were in talks over the issue.
When news about the takeover offer broke, Bayer shares took an 8% hit and a number of large Bayer investors voiced their criticism of the prospective deal, with one describing it as "arrogant empire-building".
Industry mergers
The German company has a market value of about $90bn, making it the second-largest producer of crop chemicals after Syngenta.
Monsanto, which has a market capitalisation of $42bn, attempted to buy Swiss rival Syngenta last year.
However, Syngenta ended up accepting a $43bn offer from ChemChina in February, although that deal is still being reviewed by regulators in the US.
Bayer's acquisition of Monsanto is expected to be bigger in value than the ChemChina-Syngenta deal.
The biggest merger in the chemicals industry took place late last year when Dow Chemical teamed up with Du Pont to form a new $130bn company.
BBC News Source Link
Brought to you by Planet Genius
If You Liked This Article, Join our Newsletter To Receive More Great Articles