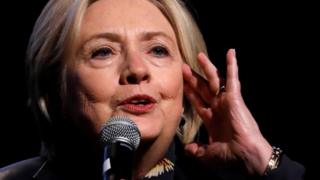 Hillary Clinton has written a lengthy Facebook post explaining why she did not fire an adviser who was accused of sexual harassment during her 2008 presidential campaign.
She admitted that if she could make the decision again it would be different.
But she also went into detail about the reasoning behind her decision.
Burns Strider was initially docked pay and told to seek counselling but was fired later from a campaign group after again being accused of harassment.
Mr Strider has not commented on the allegations.
Mrs Clinton's decision to address the episode, which was reported on by the New York Times last week, moments before President Donald Trump began his state of the union speech has raised some eyebrows.
The 30-year-old woman who made the complaint shared an office with Mr Strider, the New York Times said.
It said that, according to three former campaign officials, she had told a campaign official that Mr Strider had rubbed her shoulders inappropriately, kissed her on the forehead and sent suggestive emails.
When her complaint was investigated, two advisers, including her campaign manager, recommended Mr Strider be fired, but instead Mrs Clinton moved her to a new role, while Mr Strider stayed in place.
The matter has raised questions about Mrs Clinton's judgement and stated commitment to women's advancement.
In her Facebook statement, Mrs Clinton says: "I'm being asked as to why I let an employee on my 2008 campaign keep his job despite his inappropriate workplace behaviour.
"The short answer is this: If I had it to do again, I wouldn't."
She says she understands the scrutiny of her decision to retain Mr Strider given her work to "support and empower women".
But she says she decided to do so "because I didn't think firing him was the best solution to the problem.
"He needed to be punished, change his behaviour, and understand why his actions were wrong. The young woman needed to be able to thrive and feel safe.
"I thought both could happen without him losing his job," Mrs Clinton writes.
She says she has "reached out" to the woman in question.
"The fact that [she] felt heard and supported reinforced my belief that the process worked – at least to a degree," Mrs Clinton writes.
But she points out that the events took place long before the "seismic shift" in social attitudes towards sexual harassment.
Mr Strider was Mrs Clinton's faith adviser and has continued to send her scripture readings over recent years, the New York Times said.
BBC News Source Link
Brought to you by Planet Genius
If You Liked This Article, Join our Newsletter To Receive More Great Articles