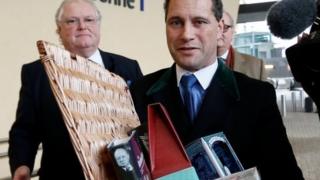 Brexit campaigners have given EU chief negotiator Michel Barnier a hamper of British products during a meeting at the European Commission in Brussels.
The delegation was made up of the Euro MP Steven Woolfe, Lord Jones, the chair of the Leave Means Leave campaign John Longworth and Labour donor John Mills.
The hamper included the complete works of Shakespeare, cheddar cheese, marmite, PG Tips and some English wine.
Lord Jones said the aim was to show the UK had little to fear from no deal.
The hamper also included:
A jar of orange marmalade
A biography of Winston Churchill
A bottle of English pinot noir
Hendrick's gin
Fortnum and Mason Piccalilli
"It shows that we have great products that can still be sold in Europe but we are also going to expand," said former UKIP member Mr Woolfe.
Lord Jones said he did not expect Mr Barnier to eat the items, although Mr Barnier's advisor Stefaan De Rynck, said it was well received:
The gift has prompted Twitter to users to complain that it contained few products from Scotland, Wales or Northern Ireland.
Some highlighted that the products were made with Spanish oranges or had been invented abroad.
One pointed out that the Anglo-Dutch owner of Marmite, Unilever, had predicted that Brexit would have a negative effect on its business.
Another hoped the negotiations would not be, ahem, hampered.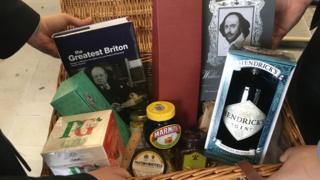 Mr Barnier already has a groaning gift shelf. At the first round of talks he was presented with a vintage climbing book by Brexit Secretary David Davis.
He gave his British guest an antique walking stick.
Jeremy Corbyn brought Mr Barnier a personalised Arsenal football shirt.
The Labour leader received a retro railway poster from Mr Barnier's home region in France.
It is all designed to build trust and generate bonhomie. Or in this case to also generate some publicity for a fairly run-of-the-mill meeting.
But it rounds off a bumper week for diplomatic gifts, after the French President Emmanuel Macron gave the Chinese President an eight-year-old horse.
The anti-Brexit Open Britain campaign was not impressed with the Brexiteers' gift to Mr Barnier, however.
The group's deputy director Francis Grove-White said: "We have reached peak Brexit. Self-important charlatans marching around Brussels with hampers of quintessentially British products, many of which are owned by companies that have said they are deeply worried about the impact of Brexit, does nothing to further the national interest."
BBC News Source Link
Brought to you by Planet Genius
If You Liked This Article, Join our Newsletter To Receive More Great Articles