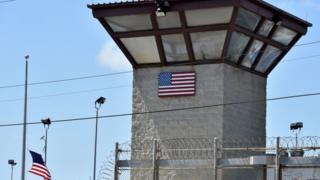 US President-elect Donald Trump says there must be no further releases of detainees from the Guantanamo Bay detention centre in Cuba.
In a tweet, he said those remaining were "extremely dangerous people and should not be allowed back onto the battlefield".
President Barack Obama had vowed to close the jail during his tenure and has transferred out many prisoners.
However, some 107 inmates remain, according to Amnesty International.
Mr Trump had opposed Mr Obama's closure plan during the presidential election campaign.
Last February he said: "This morning, I watched President Obama talking about Gitmo, right, Guantanamo Bay, which by the way, which by the way, we are keeping open.
---

---
"Which we are keeping open… and we're gonna load it up with some bad dudes, believe me, we're gonna load it up."
On 17 December, US media reported that the Pentagon was planning to transfer another 17 inmates in the coming weeks, but that would still leave 90 in the facility.
Guantanamo Bay is being used to detain what Washington calls "enemy combatants", following the 11 September 2001 attacks in the US.
The first 20 detainees were transferred to the facility on 11 January 2002, and a total of 780 men have been held since then – the vast majority without charge or criminal trial.
Mr Obama has approved transfers regularly but the Republican-dominated Congress tightened restrictions, requiring the Pentagon to report that security standards have been met at least 30 days before any such move.
Those removed from Guantanamo have been transferred to other countries and lawmakers have resisted any attempts to allow prisoners into the US.
BBC News Source Link
Brought to you by Planet Genius
If You Liked This Article, Join our Newsletter To Receive More Great Articles