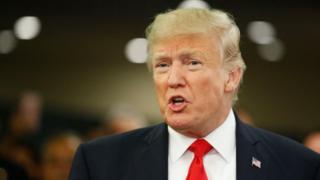 The United Nations is not living up to its potential, US President Donald Trump has said in his debut speech to the UN General Assembly.
"Focus more on people, less on bureaucracy," he urged at the organisation's headquarters in New York, reiterating his call for reform.
No state should bear a disproportionate share of costs, he said.
The US pays 28.5% of the overall peacekeeping bill, which Mr Trump has called unfair.
While still a candidate for the US presidency, Mr Trump sharply criticised the UN, speaking of its "utter weakness and incompetence".
"It has not reached its potential because of the bureaucracy and mismanagement," he said in his opening remarks.
He encouraged member states to take a "bold stand" to change the UN's business-as-usual approach rather than "be beholden to ways of the past which are not working".
He called on the new Secretary General, António Guterres, to make changes.
Mr Guterres responded by agreeing that excessive red tape kept him up at night.
Trump's past UN tweets
BBC News Source Link
Brought to you by Planet Genius
If You Liked This Article, Join our Newsletter To Receive More Great Articles