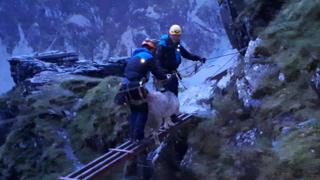 A sheep stranded on a steep cliff in the Lake District for three weeks has been rescued.
The animal had been unable to get down from the narrow ledge near Bull Ghyll at Honister Pass.
Volunteers from the Cockermouth Mountain Rescue Team climbed the crag to reach the sheep, and at one point clipped it on to a fixed climbing cable to help it cross a metal bridge.
A spokesman for the team described it as an "epic and daring rescue".
He added: "Think Indiana Jones crossed with Tomb Raider, crossed with Jumanji, crossed with … One Man And His Dog."
The fixed cables – a climbing system known as Via Ferrata – are attached to a rock-face route, once used by Victorian slate miners, and now by tourists.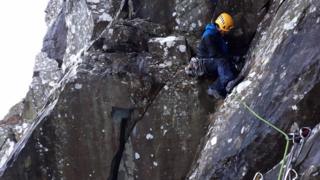 You may also like:
BBC News Source Link
Brought to you by Planet Genius
If You Liked This Article, Join our Newsletter To Receive More Great Articles