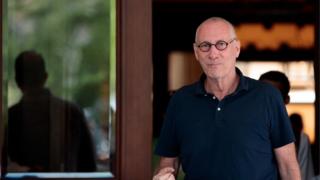 ESPN president John Skipper has announced his resignation, citing a problem with substance addiction.
Former ESPN president George Bodenheimer, who worked for the sports media company for more than 30 years, will step in as interim president.
The changes are effective immediately.
Mr Skipper said in a statement: "I come to this public disclosure with embarrassment, trepidation and a feeling of having let others I care about down."
"I have struggled for many years with a substance addiction. I have decided that the most important thing I can do right now is to take care of my problem."
Mr Skipper has led ESPN since 2012 and recently signed an extension to his contract through 2021. He had worked at ESPN since 1997.
The company, owned by Disney, has been facing challenges as the number of people with pay TV declines. It has undergone several rounds of layoffs in recent years.
Mr Skipper's departure comes after few says after Disney struck a deal to buy film, television and international businesses from Rupert Murdoch's Twenty-First Century Fox for $52.4bn.
Disney chief executive Bob Iger, who has extended his stay at the company until the end of 2021 to oversee integration of Fox's businesses, praised Mr Skipper's candor.
Mr Skipper has led ESPN to a series of long-term, multi-platform agreements with major sports rights holders, including the National Basketball Association and the Major League Baseball.
BBC News Source Link
Brought to you by Planet Genius
If You Liked This Article, Join our Newsletter To Receive More Great Articles