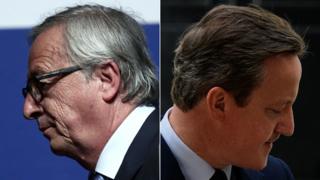 EU leaders are to meet to discuss the UK's "divorce" from the organisation after a historic referendum result.
The UK voted by 52% to 48% to leave the EU. Prime Minister David Cameron has said he will step down by October.
The first meeting of EU leaders with no British representation will be held on Wednesday. The EU has urged the UK to start negotiations to leave quickly.
European Commission head Jean-Claude Juncker stressed the "Union of the remaining 27 members will continue".
Global stock markets fell heavily on the news of the so-called "Brexit". The value of the pound has also fallen dramatically.
The UK must now invoke Article 50 of the EU Lisbon Treaty, which then allows for two years for withdrawal to be negotiated.
However, Mr Cameron said he preferred to leave negotiations to his successor.
"Britons decided yesterday that they want to leave the European Union, so it doesn't make any sense to wait until October to try to negotiate the terms of their departure," Mr Juncker said in an interview with Germany's ARD television network.
"I would like to get started immediately."
Also on Friday, European Parliament President Martin Schulz said the EU "as a whole was taken as a hostage" by infighting among Mr Cameron's Conservative party.
Mr Tusk said the "so-called divorce process" would be discussed among all non-UK members on Wednesday, a day after Mr Cameron holds talks with members.
---
Europe asks what next – Katya Adler, BBC Europe editor

In all the years I've covered European politics, I've never seen this continent so Eurosceptic or the future of the European Union so uncertain.
The mood in Brussels is resentful and despondent, while governments across Europe are scared.
They feel the heat from angry electorates who share many of the criticisms of the EU highlighted during the UK referendum campaign.
That's why you've been hearing the words "EU" and "reform" of late from the nervous mouths of some you'd least expect, such as Germany's Angela Merkel, and Donald Tusk.
Because they're so worried, the EU is preparing to get tough with Britain over the terms and timing of a new trade relationship.
This is not about punishment – well, not much.
It's more a desire for the process to be painful to put others off exiting, while Europe's leadership tries to re-group and, perhaps, reform.
Read more by Katya on Brexit here
---
How European powers reacted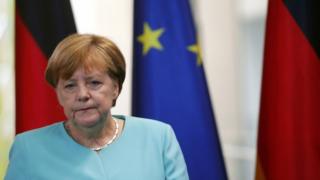 German Chancellor Angela Merkel expressed "great regret" at the British decision, saying: "This is a blow to Europe and to the European unification process"
French President Francois Hollande said the vote "seriously puts Europe to the test" but called for the EU to push on with reform and investment
Italian PM Matteo Renzi, who will meet Mr Hollande on Saturday, said: "Europe is our house," adding that "the house needs to be renovated, perhaps freshened up"
Russian President Vladimir Putin said the decision showed the UK's unhappiness with migration and security
Greek PM Alexis Tsipras said the vote was "either a wake-up call or the beginning of a dangerous path", adding: "We urgently need a new vision and beginning for a united Europe"
Other leaders, including Polish President Andrzej Duda, said it was crucial that work be done to prevent other countries leaving the EU.
Turkey's President Recep Tayyip Erdogan said it was inevitable more countries would leave the EU soon if it did not change its path.
Leaders of Eurosceptic parties in France, the Netherlands and Italy quickly demanded referendums in their own countries.
Reacting to the vote, UK Independence Party leader Nigel Farage said "the EU is dying".
But Mr Tusk said this was "not a moment for hysterical reactions".
How did Europe's markets react?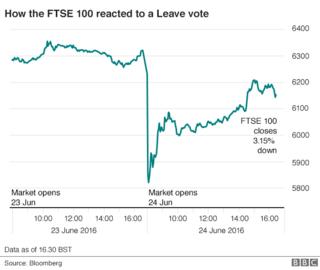 London's FTSE 100 index fell 7% in early trading, but ended the day 3.15% lower.
European markets were hit harder, with the Dax in Frankfurt suffering its worst day since 2008.
The European Central Bank also said it was closely monitoring financial markets and was in close contact with other central banks.
Sterling also plunged, falling more than 8% against the dollar and 6% against the euro.
Read more: Stock markets tumble after Leave vote
What comes next?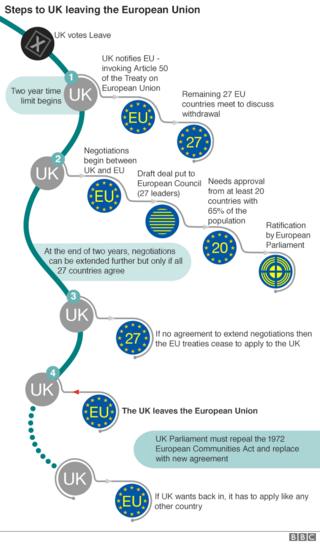 What is Article 50 of the EU Treaty?
In force since 2009 but never tested
Allows governments to notify intent to leave. Talks then begin on a range of issues between the leaving nation and other EU members
If no deal is reached, membership will automatically cease two years after notification
The article is only a basic template for leaving, settling the date and some other matters. It does not automatically include issues such as movement of people or trade. The latter could take years to conclude
BBC News Source Link
Brought to you by Planet Genius
If You Liked This Article, Join our Newsletter To Receive More Great Articles