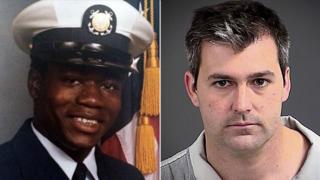 A former South Carolina police officer has been sentenced to 20 years in prison for fatally shooting an unarmed African-American motorist.
Michael Slager committed second-degree murder when he shot Walter Scott in the back as he fled arrest after a traffic stop, a judge ruled on Thursday.
"I forgive you," relatives of Scott told Slager, 36, in court, as they spoke about the death's impact on them.
A bystander recorded mobile phone video of the April 2015 shooting death.
Experts say that without a video of the shooting, the officer probably would not have been fired from the force nor have faced murder charges.
Before issuing his ruling, Judge David Norton told the court: "No matter what sentence I give, neither the Scott family nor the Slager family is going to like it or think it's right."
The officer had "lived a spotless life" before the shooting, the judge said.
"Regardless, this is a tragedy that shouldn't have happened," he added on the fourth day of sentencing.
Lawyers for Slager, who is white, had argued in court that he opened fire on Scott as he ran because he thought that he had taken his police-issued stun gun during their scuffle.
The case ended in a mistrial in 2016, and rather than retrying the case, the former North Charleston officer pleaded guilty to a federal charge of violating the victim's civil rights.
In Thursday's sentencing, the judge ruled that Slager had acted with malice and forethought "with willful intent to provide false testimony".
The judge also had the option of sentencing him for a lesser crime of voluntary manslaughter, which would have carried a sentence of 12 to 15 years.
Slager chased Scott, 50, after the unarmed man was pulled over for a broken brake light.
Scott, who was wanted for unpaid child support, fled the vehicle, police dashcam footage shows.
BBC News Source Link
Brought to you by Planet Genius
If You Liked This Article, Join our Newsletter To Receive More Great Articles