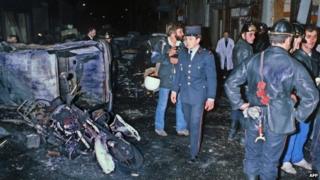 French authorities have dropped all terrorism charges against Lebanese-Canadian professor Hassan Diab in the 1980 Paris synagogue bombing.
He was charged with first-degree murder in connection to the bombing that killed four people and injured 40.
He was arrested in Canada in 2008 and extradited to France in 2014. He spent three years in prison.
Mr Diab, 64, has always maintained his innocence and says he was in Lebanon at the time of the attack.
"Canada welcomes the recent court decision to release Hassan Diab," said Brittany Venhola-Fletcher, a spokeswoman for Canada's department of international affairs.
Ms Venhola-Fletcher was not able to say when the former University of Ottawa professor would be returning to Canada.
French authorities had claimed Mr Diab, who has taught sociology at two Ottawa universities, was a member of the Popular Front for the Liberation of Palestine.
He was accused of making a bomb and leaving it in a motorcycle outside the Copernic Street synagogue in Paris on 3 October 1980.
BBC News Source Link
Brought to you by Planet Genius
If You Liked This Article, Join our Newsletter To Receive More Great Articles