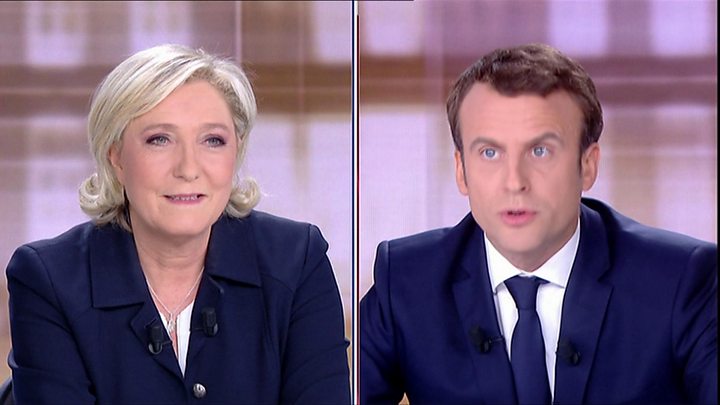 French presidential candidate Emmanuel Macron was more impressive than rival Marine Le Pen in Wednesday evening's final TV debate, a viewers' poll says.
The candidates traded insults for more than two hours, arguing over terrorism, the economy, and Europe.
The French broadcaster BFMTV found voters had a more favourable view of Mr Macron than Ms Le Pen in most categories.
He was the "most convincing" of the pair in the opinion of 63% of viewers.
Ms Le Pen lambasted her rival for his finance and government background, accusing him of being "the candidate of savage globalisation" and said his version of France "is a trading room, where it will be everyone fighting for themselves".
In turn, Mr Macron said the National Front leader openly lied, proposed nothing, and exaggerated the concerns of the public.
"The high priestess of fear is sitting before me," he said.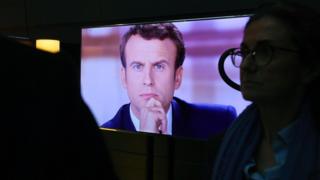 Both candidates were hoping to make an impression on the estimated 18% of undecided voters in the first election the country has ever held without a candidate from the two traditional mainstream parties.
The second round run-off between the pair takes place on Sunday.
---
Analysis: Hugh Schofield, BBC Paris correspondent
This turned into a tense, at times incendiary exchange between two leaders with starkly opposing ideas about the road France needs to take.
Marine Le Pen, who lags badly in the opinion polls, had clearly decided that the best tactic was to launch a full-frontal attack on Emmanuel Macron.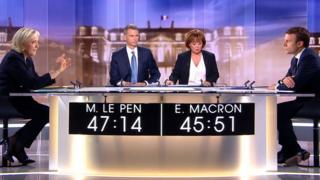 Constantly throughout the debate she threw insults and allegations at him, accusing him of being part of the discredited existing order.
But there was little substance to her attacks, and over and again Emmanuel Macron was able to expose the weaknesses in her arguments – especially over the economy and the euro.
The debate will have done nothing to alter his position as clear favourite in Sunday's vote.
---
The BFMTV poll found that Mr Macron was deemed the "most convincing" during the television debate for two-thirds of those who voted for both left-wing candidate Jean-Luc Mélenchon in the first round, and for 58% of those who voted for Republican François Fillon.
Mr Macron also led among voters when they were asked about which candidate was most honest, most aligned with the voters' values, and who had the best plans.
It was carried out among 1,314 people over the age of 18 who watched the debate.
Insults and issues
Mr Macron already enjoys a lead in the opinion polls, which predict he will pull in about 59% of votes.
But Ms Le Pen hammered him on his record during the key debate.
On unemployment, which stands at around 10% nationally, Mr Macron acknowledged that the country had not tackled the problem – and Mrs Le Pen asked why he had not handled it during his recent time as economy minister.
She also accused him of complacency about the threat of radical Islamic terrorism. "Security and terrorism are major issues that are completely missing from your programme," she said.
But in response, Mr Macron said the measures she proposed – "eradicating" Islamic fundamentalism by shutting down extremist mosques, and expelling preachers of hate – played intro terrorists' hands and the desire they have for a "a civil war".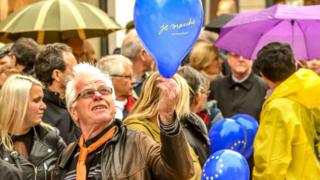 They also clashed on the future of the European Union, where they have clearly opposed views.
Ms Le Pen has said she would call for an in-out referendum on EU membership, and in recent days declared the euro currency as finished.
During the debate, she said she would restore France's national currency and give companies and banks an option on which currency to pay in – a proposal which Mr Macron labelled "nonsense".
"How can a big company pay in euros on one hand and pay its employees in another currency?" he asked.
Wednesday night's debate marked the last time the two candidates faced each other before Sunday's vote.
Just two days of campaigning remain before reporting restrictions come into force late on Friday evening – and remain in place until polls close on Sunday.
---
Poll tracker
Please enable Javascript to view our poll of polls chart.
Last updated April 25, 2017
*Polling results up to this date show how people said they would vote on 7 May, if Macron and Le Pen reached the second round
The polling average line looks at the five most recent national polls and takes the median value, ie, the value between the two figures that are higher and two figures that are lower.
BBC News Source Link
Brought to you by Planet Genius
If You Liked This Article, Join our Newsletter To Receive More Great Articles