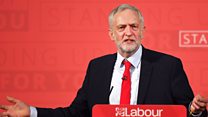 Labour leader Jeremy Corbyn has vowed to "overturn the rigged system" by putting power and wealth back in the hands of "the people".
In his first major general election speech, he said 8 June's poll was not a "foregone conclusion" and Labour could defy the "Establishment experts".
A Labour government would not "play by their rules," he added.
Theresa May is hoping to convert the Tories' double digit poll lead into a bigger Commons majority.
The prime minister says this will strengthen her hand in Brexit negotiations and provide the "strong and stable leadership" the country needs.
Her decision to hold a general election – after previously insisting she would wait until 2020 – took her rivals and many in her own party by surprise.
Mr Corbyn could have blocked it in Parliament but instead ordered his MPs to back the snap poll in a Commons vote on Wednesday.
The Labour leader looks set to run an anti-establishment campaign, presenting himself as a champion of the powerless against political and business elites.
He attacked the "morally bankrupt" Conservatives who he said would not stand up to tax avoiders and other members of a "gilded elite," who were extracting wealth "from the pockets of ordinary working people".
Labour would "end this racket" and "overturn the rigged system," he told an audience of Labour supporters in London.
He also said Labour was the only party that would "focus on the kind of country we want to have after Brexit" – dismissing Mrs May's election campaign as an "ego trip about her own failing leadership".
And he insisted all of Labour's policies, including an increase in corporation tax for big business and more money for carers and a £10 an hour minimum wage, were fully costed.
Addressing Labour's poor opinion poll ratings, he said he was given a 200/1 chance of becoming Labour leader in 2015 and he defied those odds.
---
Assessing Corbyn's speech: By Iain Watson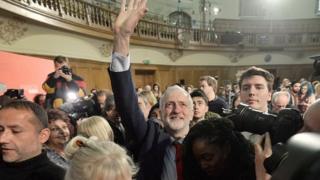 His message was uncompromising. Jeremy Corbyn attacked targets from what he called the ruling elite. In doing so, he was trying to recapture the energy and rhetoric which enabled him to win not one, but two, Labour leadership contests.
He said a future Labour government wouldn't play by the rules and denounced his Conservative opponents as morally bankrupt. But the City, the media and business people were also in his sights – it created diving lines not just with his current political opponents but with his party's New Labour past.
Corbyn's speech received a standing ovation from the invited audience of Labour members and was designed in part to motivate newer recruits in particular to campaign over the next seven weeks. It could also shore up the party's core support.
But it's less clear how it will be received by swing voters in marginal seats.
---
Mr Corbyn said: "Much of the media and Establishment are saying this election is a foregone conclusion.
"They think there are rules in politics, which if you don't follow by doffing your cap to powerful people, accepting that things can't really change, then you can't win.
"But of course those people don't want us to win. Because when we win, it's the people, not the powerful, who win."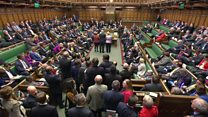 He added: "They say I don't play by the rules – their rules. We can't win, they say, because we don't play their game.
"They're quite right I don't. And a Labour government elected on 8 June won't play by their rules."
He added that those rules "have created a cosy cartel which rigs the system in favour of a few powerful and wealthy individuals and corporations".
Mr Corbyn said: "It's a rigged system set up by the wealth extractors for the wealth extractors."
The Labour leader singled out tycoon Sir Philip Green, who faced heavy criticism over the BHS pensions saga, and Sports Direct boss Mike Ashley in his speech, saying they should be "worried about a Labour government".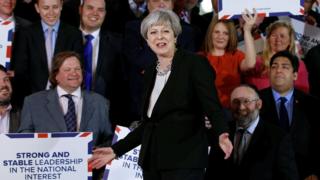 Meanwhile, Mrs May sought to put "strong and stable" leadership at the heart of her pitch to voters as she addressed supporters in Bolton on Wednesday.
She said the country now has a "unity of purpose" and a desire for the government to "get on" with implementing Brexit and "making a success of it".
The PM warned of a potential "coalition of chaos" led by Mr Corbyn, although the Labour leader ruled out forming a post-election alliance with the SNP.
Mrs May has faced criticism from rival parties for refusing to take part in head-to-head TV debates against other leaders during the campaign.
She said she preferred "to get out and about and meet voters".
A Downing Street source said the PM would not appear on the same stage as another leader on television, but did not rule out an individual event with a studio audience.

Sign-up to get news from the BBC in your inbox, each weekday morning

BBC News Source Link
Brought to you by Planet Genius
If You Liked This Article, Join our Newsletter To Receive More Great Articles