Hold on to your hats!
From knock-you-off-your-feet winds to Prince George giggling in the chapel – here are some lesser-spotted moments from Princess Eugenie's big day….
Gone With the Wind
Ok, so we know you must have clocked that it was a bit windy.
Well. More than a bit.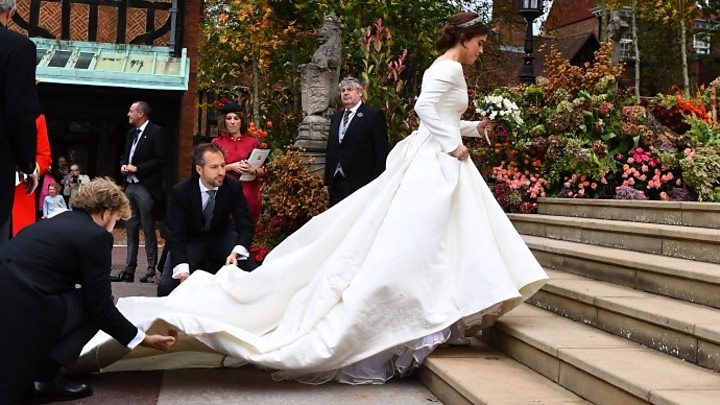 Storm Callum was certainly an uninvited guest – but it was all rather entertaining watching wedding-goers make their way into St George's Chapel without losing a fascinator.
The country held its breath as six-year-old pageboy Louis de Givenchy lost his footing. But thankfully the youngster was quickly back on his feet.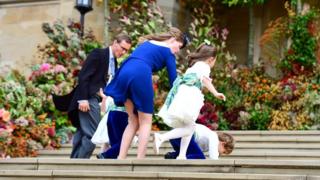 Here's Robbie Williams's mother-in-law holding on to her hat moments after it blew away live on TV: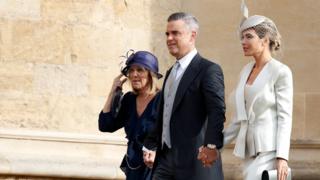 And another guest chasing down a hat: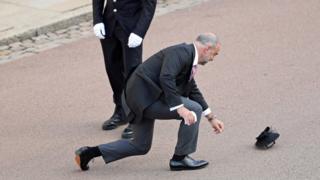 Many of the guests seemed to enjoy getting (nearly) swept off their feet: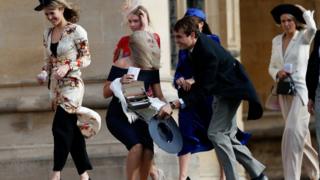 Prince George had mega lols in the chapel
We're not sure what it was but something tickled the young prince, who appeared to be having a whale of the time with his fellow bridesmaids and page boys during the service.
What was so funny, George?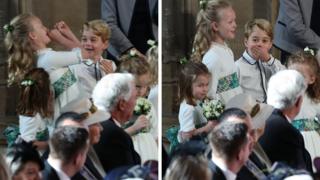 Hats off (or actually, on) to Cara Delevingne who sent the internet into meltdown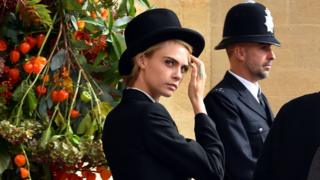 The model, a childhood friend of Princess Eugenie, walked into the wedding wearing a top hat and tails.
The internet's verdict: YES.

The dress showed Princess Eugenie's back and there was a special reason behind it
Unless you were looking really closely you might not have noticed anything.
But Princess Eugenie wore a dress with a low back that showed off a scar from major surgery she had as a child.
She had previously hinted she might do this, telling ITV's This Morning it was important to "show people your scars".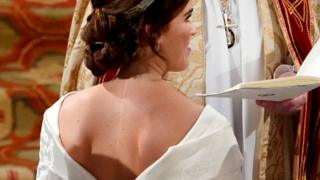 Kate and Wills share a tender moment inside the chapel
A few eagle-eyed viewers spotted the Duke and Duchess of Cambridge holding hands as they waited for the ceremony to begin.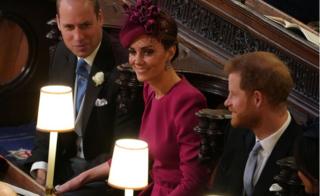 Meanwhile, other royal watchers noticed that Jack Brooksbank rather struggled when it came to putting the gold wedding band on his bride's finger.
It prompted some smiles from the couple, with the princess then collecting herself and helping the groom to slide the ring on to her finger.

The mother-of-the-bride's hat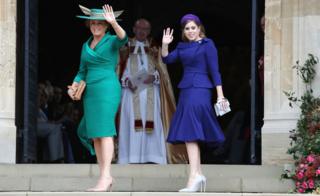 Sarah Ferguson's choice of hat divided opinion on social media.
Some likened the large winged bow to the golden snitch from the Harry Potter books.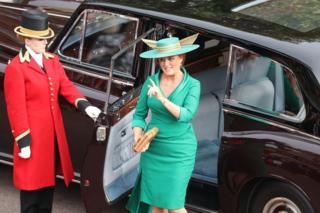 BBC News Source Link
Brought to you by Planet Genius
If You Liked This Article, Join our Newsletter To Receive More Great Articles