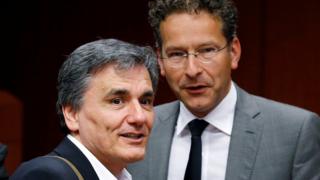 The head of the Eurogroup of finance ministers, Jeroen Dijsselbloem, has said he hopes a deal with Greece on reforms and debt relief can be agreed later this month.
Mr Dijsselbloem said talks on Monday in Brussels would be "a first discussion" and he hoped a deal could be finalised by eurozone ministers on 24 May.
Greek MPs passed controversial new pension and tax reforms on Monday.
The measures are needed to unlock further international bailout money.
Monday's talks in Brussels were focusing on debt relief measures aimed at avoiding the prospect of Greece defaulting on its debt in July.
That is when Athens is due make its next major repayment to the International Monetary Fund (IMF) and the European Central Bank.
"Today we are having a first discussion on the topic and then we will cut the knot on May 24," Mr Dijsselbloem told reporters as he arrived for the talks.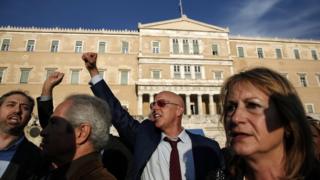 "Today, we'll only have a first discussion on what, when, if and how debt relief measures could take place. I don't expect any decisions on that, it's only a first discussion."
German Finance Minister Wolfgang Schaeuble also said he was "confident" that a solution would be reached in May.
Cash-strapped Greece agreed to a third bailout package worth €86bn (£60bn) last year.
The IMF and other European partners are demanding Greece implement further austerity measures to generate an extra €4bn (£3.1bn) in savings – contingency money in case Greece misses future budget targets.
The debate in Greece's parliament on the reforms lasted for two days and protesters clashed with police in Athens in the lead up to the vote early on Monday.
Three days of a general strike also paralysed public transport and slowed the public sector.
Greek trade unions say the country cannot bear another round of austerity measures.
Greek Prime Minister Alexis Tsipras said it was time to end the "vicious cycle" of cuts and to start talks with the eurozone on debt relief.
"We have an important opportunity before us for the country to break this vicious cycle, and enter a virtuous cycle," he told MPs.
Mr Tsipras was elected as prime minister on an anti-austerity ticket but later signed up to Greece's third international bailout since 2010.
BBC News Source Link
Brought to you by Planet Genius
If You Liked This Article, Join our Newsletter To Receive More Great Articles