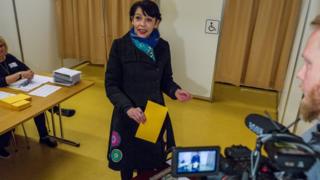 Iceland's anti-establishment Pirate Party is set to make gains from Saturday's parliamentary elections, partial results show.
With about a quarter of votes counted, the party was in third place with about 13% of the vote.
It would give the Pirates nine seats in the 63-seat parliament. It currently has three.
The centre-right Independence Party was in the lead with 30% and the Left-Green Movement second with 17.1%.
It is still too early to say which party or coalition of parties will be able to form the next government.
The early election was triggered by the resignation of Prime Minister Sigmundur Gunnlaugsson in April.
He stepped down in the wake of the leaked Panama Papers which revealed the offshore assets of high-profile figures.
The Independence Party has been the junior partner in a coalition government with the Progressive Party.
BBC News Source Link
Brought to you by Planet Genius
If You Liked This Article, Join our Newsletter To Receive More Great Articles