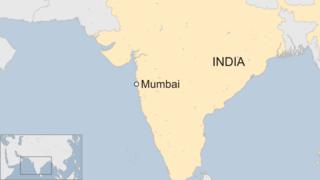 A rescue operation is under way after a boat carrying 40 schoolchildren capsized off the Indian coast near Mumbai.
Thirty-two children have been rescued so far and two bodies have been recovered, reports say.
Ships have been diverted to the area near Dahanu, in Maharashtra state, to help the rescue.
The boat had been overcrowded and the children were not wearing lifejackets, the Times of India reported.
India's coast guard said two bodies had been found. Indian President Ram Kovind said his thoughts were with the families of those who had died.
Boats in India are often overloaded and lax safety standards mean accidents are common.
In November at least 16 people drowned when their boat capsized in the southern state of Andhra Pradesh.
"The search operation is going on. All our local officers and staff are on the spot. Rescue teams from other departments are also there," a senior police officer was quoted by the Indian Express as saying.
In a separate incident, at least three people were killed when a helicopter crashed into the sea off Mumbai.
The helicopter had been carrying five employees of Indian oil exploration firm ONGC and two pilots, when it went missing 15 minutes after taking off from Juhu.
The coast guard said the wreckage had been found and the search for those still missing was continuing.
BBC News Source Link
Brought to you by Planet Genius
If You Liked This Article, Join our Newsletter To Receive More Great Articles