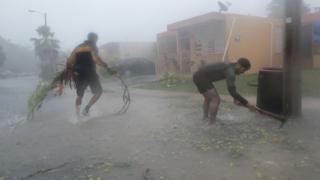 Hurricane Irma has caused a trail of destruction across parts of the Caribbean, battering a number of islands and reducing buildings to rubble.
It is predicted to head north-west towards the US mainland by the weekend, but what lies in its path before that?
How big and powerful is Hurricane Irma?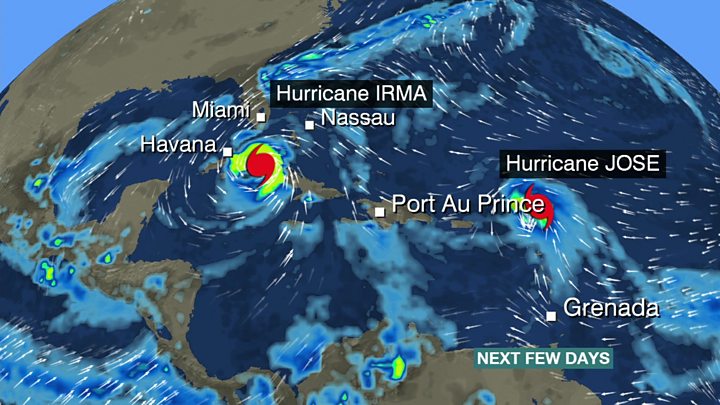 Irma is making headlines as the most powerful Atlantic storm in a decade. So far at least nine people have been killed as it hit the dual-island nation of Antigua and Barbuda and the French territories of Saint-Martin and Saint Barthélemy.
Its wind speeds have now surpassed those of Hurricane Felix (September 2007) and Hurricane Wilma (October 2005).
The Saffir-Simpson scale is used to judge the power of a hurricane. Hurricane Irma has reached category five, the highest possible classification.
The huge storm is carrying sustained wind speeds of 295km/h (185mph).
A state of emergency had been declared for Florida, Puerto Rico and the US Virgin Islands, mobilising US federal disaster relief efforts.
What is Irma's projected path?
The storm is moving relatively slowly, at about 26km/h, as it heads towards the southern US coast from the Atlantic, past the Dominican Republic and the Bahamas.
The US National Hurricane Center said the storm's core was due to pass by the Dominican Republic coastline on Thursday.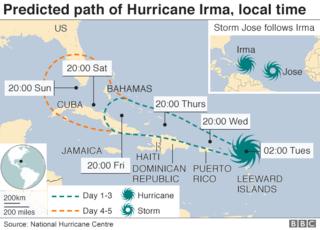 The NHC has two types of warnings for this scenario: a hurricane warning ("preparations to protect life and property should be rushed"), a hurricane watch ("hurricane conditions are possible") and a tropical storm warning ("tropical storm conditions are expected somewhere within the warning area").
On Thursday, hurricane warnings were in effect for:
Puerto Rico, Vieques, and Culebra
Dominican Republic from Cabo Engano to the northern border with Haiti
Haiti from the northern border with the Dominican Republic to Le Mole St Nicholas
South-eastern Bahamas and the Turks and Caicos Islands
Central Bahamas
Hurricane watch was issued for:
Cuba, from Matanzas province eastward to Guantanamo province
North-western Bahamas
The centre says that a tropical storm warning is in effect for:
Dominican Republic from south of Cabo Engano westward to the southern border with Haiti
Haiti from south of Le Mole St Nicholas to Port-Au-Prince
Cuba provinces of Guantanamo, Holguin and Las Tunas
The NHC is constantly releasing new advisories. You can read the latest reports at the National Hurricane Center.
Will Florida and other parts of the US be struck?
A caveat: forecasters projecting the direction of the storm warn that they could be wrong.
The projected path should not be seen as a guarantee of safety for those in nearby regions.
Irma is currently veering north-west, and is likely to skirt the north of Haiti on Friday, move over or near Cuba on Saturday and Sunday, possibly striking islands off Florida.
The projection for Sunday is that it will reach mainland Florida but again, that forecast is far from certain, and we do not know how powerful the storm will be by then.
Nonetheless, Florida's governor is warning the population not to take risks, warning that it is stronger than Hurricane Andrew (August 1992), which killed 65 people.
Officials have started evacuating tourists and residents of Florida Keys, a resort archipelago.
Flights to and from several airports in Florida have been suspended, while Orlando's international airport reporting that commercial flights would stop from 17:00 local time on Saturday.
How much damage has it caused?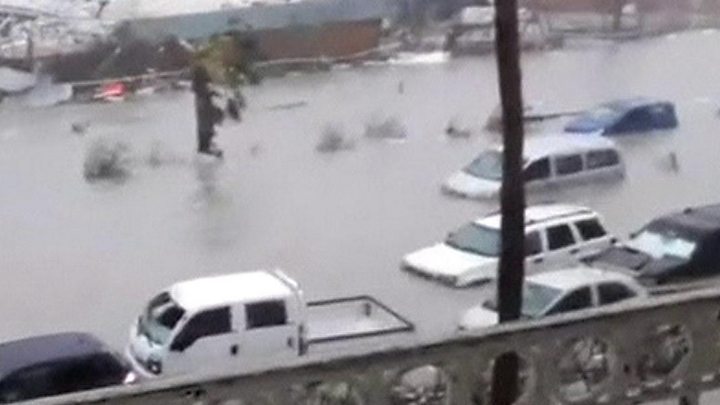 The small island of Barbuda is said to be "barely habitable" while officials warn that the French territory of Saint-Martin is almost destroyed.
At least one death, of a child, was reported on Barbuda, where Prime Minister Gaston Browne said about 95% of the buildings had suffered some damage.
Most of those killed were on Saint-Martin and Saint Barthélemy – St-Martin's airport, the third largest in the Caribbean, has been destroyed, with local officials saying that most buildings on the territory have been levelled.
With the scale of the damage still emerging the death toll is likely to rise.
More than half of Puerto Rico's three million residents were without power as Irma caused heavy downpours and strong winds. Officials have said that power could be cut off for several days.
Widespread damage has been reported in the British Virgin Islands.
Is it getting stronger or weaker?
Hurricane Irma has been getting progressively stronger. On 4 September, it was a category three storm with winds of 195km/h. The next day, it was a category four, with speeds of 220km/h, and it's now at 295km/h.
The latest forecast predicts that the storm's power will fluctuate but is not clear how things will progress.
Are flights delayed or cancelled?
Flights between many of the islands, which include the Dominican Republic, Guadeloupe and the British Virgin Islands, have been cancelled. Antigua's airport was closed on Wednesday.
British Airways cancelled some flights, and sent an empty aircraft to Antigua to bring 326 travellers home early.
Airlines serving the three main airports in south Florida are reported to have cancelled or delayed several flights on Wednesday at Fort Lauderdale, Miami and Palm Beach International Airport,
Other airports in the state were advising passengers to check flight status with their airlines.
What about Hurricanes Jose and Katia?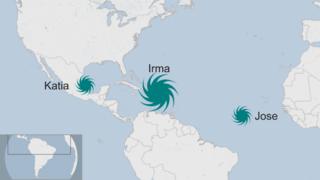 There are two other storms of concern at the moment – Hurricanes Jose and Katia. Storms are named in alphabetical order as they happen, so after Irma come names beginning with J and K.
Jose, further out in the Atlantic behind Irma, has swelled to category one hurricane strength and could be near major hurricane strength on Friday, according to the NHC.
Although its path is not clear, Jose could hit some areas already affected by Irma.
And Katia, in the Gulf of Mexico, was also recently upgraded to hurricane status, with warnings that it could hit the coast of the Mexican state of Veracruz.
Seeing multiple storms developing in the same area of the Atlantic in close succession is not uncommon.
Rarer though is the strength of the hurricanes, with Harvey – which recently hit Texas – making landfall as a category four.
How are dangerous storms measured?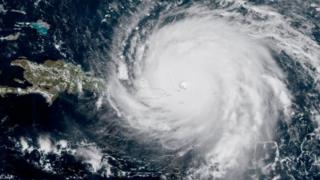 All the signs are that official forecasters were not exaggerating when they described Hurricane Irma as "extremely dangerous" and "potentially catastrophic".
The threat to humans and property is unpredictable – we will not know the full extent of the fallout until later.
Hurricane Wilma, in 2005, had similar wind speeds and killed 87 people, costing billions in damage. But wind speeds are not always a good indicator of the damage a storm can do.
In 2016, Hurricane Matthew, which was less powerful, killed almost 600 people – more than 500 in Haiti. The NHC's final report said that poorly constructed homes were "completely destroyed" by winds.
Extreme weather patterns are complex, and where the storm hits and how prepared the populace are may have a significant effect.
What should I do to prepare?
Local governments in the path of the storm are issuing their own instructions, which should be followed.
Once the storm is a serious threat, the US NHC advises residents to:
Be prepared to evacuate if you live in a storm surge risk area
Secure homes by covering all windows with strong plywood, if you do not have storm shutters installed
Check the websites, news and radio frequently to make sure you have the latest advice
Take refuge in a small interior room, closet or hallway on the lowest level, with as many walls between you and the storm as possible
Keep away from windows, skylights, and glass doors
Be aware that if the eye of the storm passes over, there could be a short period of calm – but wind speed will rapidly increase on the other side
Ideally, those in the storm's path should have an emergency kit prepared in advance, with food, water, batteries, artificial light and other supplies.
BBC News Source Link
Brought to you by Planet Genius
If You Liked This Article, Join our Newsletter To Receive More Great Articles