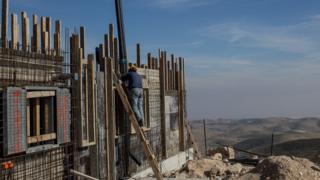 Israel's parliament has passed a controversial law retroactively legalising about 4,000 homes built on settlements in the occupied West Bank.
The law passed by 60 votes to 52.
It states that the original Palestinian landowners will be compensated with money or alternative land.
The new US President Donald Trump has taken a softer stance on Israel's settlements than his predecessor, Barack Obama, despite widespread international opposition.
Emboldened by the new US administration, Israel has undertaken a series of pro-settlement moves in recent weeks, including the approval of thousands of homes.
Those were punctuated by Israeli security forces last week evicting hundreds of hardline Jewish settlers from Amona, an illegal outpost of on the occupied West Bank.
The move followed years of political controversy over the outpost, which is built on private Palestinian land.
---
More on this story
What will the Trump presidency mean for Israel?
Can settlement issue be solved?
---
The legalisation on Monday of a number of outposts has proved divisive within Israel and is likely to face legal challenges.
The attorney general, Avichai Mandelblit, called the bill unconstitutional and said he would not defend it in the supreme court.
Cabinet minister Ofir Akunis said during a debate ahead of the vote: "We are voting tonight on the connection between the Jewish people and its land. This whole land is ours. All of it."
Opposition MPs shouted from their seats at members of the governing coalition who were speaking in favour of the bill and spectators raised a black cloth in apparent protest.
Palestinians condemned the law.
"This is an escalation that would only lead to more instability and chaos," said Nabil Abu Rudeineh, a spokesman for Palestinian leader Mahmoud Abbas.
He added: "It is unacceptable. It is denounced and the international community should act immediately,"
The UN Middle East envoy, Nickolay Mladenov, called on Israeli MPs to vote against the law, saying it would "greatly diminish the prospects for Arab-Israeli peace".
The Obama administration strongly condemned Israel's settlement programme, and some 6,000 new homes in the West Bank and east Jerusalem have been planned since the former president left office.
Mr Trump did appear last week to moderate his staunchly pro-Israeli position, saying that the construction of new settlements "may not be helpful" to the peace process.
More than 600,000 Jews live in about 140 settlements built since Israel's 1967 occupation of the West Bank and East Jerusalem. The settlements are considered illegal under international law, though Israel disputes this.
Much of the international community views Israeli settlements as illegal and an obstacle to the peace process.
Palestinians want to form a state from the West Bank, east Jerusalem and the Gaza Strip, territories captured by Israel in the 1967 Mideast war.
BBC News Source Link
Brought to you by Planet Genius
If You Liked This Article, Join our Newsletter To Receive More Great Articles