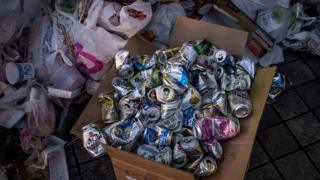 A man in Tokyo has been arrested on suspicion of sending more than 500 items of rubbish to people he claims bullied him at school, reports say.
Shigeta Miura, 40, allegedly posted rotten tea leaves, dirt, and women's underwear 70 times over the past year.
More than 500 packages were sent to four people who were in his primary school and boy scout troop, Japanese media reported.
Mr Miura told police the packages were sent in revenge.
He reportedly stuffed the rubbish into unstamped packages, putting the intended recipient down as the sender.
He then addressed them to random people, knowing that without stamps they would be returned to the apparent sender.
He is being charged with violating a public nuisance order.
BBC News Source Link
Brought to you by Planet Genius
If You Liked This Article, Join our Newsletter To Receive More Great Articles