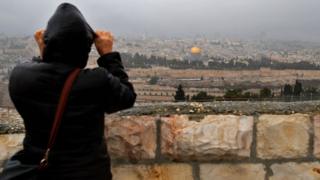 US President Donald Trump's decision to recognise Jerusalem as Israel's capital has been met with a wave of disapproval – even before he formally made the announcement.
Leaders from within the Muslim world and from the wider international community were swift to criticise the move, and warned of violence and bloodshed as a result.
Mr Trump also approved moving the US embassy from Tel Aviv to Jerusalem, making America the first country in the world to officially recognise Jerusalem as Israel's capital.
The status of Jerusalem lies at the heart of the long-running Israeli-Palestinian conflict, as the Palestinians claim East Jerusalem as the capital of their future state.
White House officials have said Mr Trump's decision is a "recognition of current and historic reality" but is not a political statement, and will not change the physical and political borders of Jerusalem.
Palestinians
President Mahmoud Abbas says moving the US embassy to Jerusalem would be "unacceptable" to Palestinians. "If this happens, it will complicate things," says his spokesman Nabil Abu Rdeneh. "It will put an obstacle to the peace process. Maybe it will be the end of the peace process."
Mr Abbas's diplomatic adviser, Majdi Khaldi, said Mr Trump's announcement might end Washington's role as a mediator. "This would mean they decided, on their own, to distance themselves from efforts to make peace," he told the Associated Press news agency.
Hamas spokesman Hazem Qassem said the decision "confirms what Hamas have always said, that the United States has not and will not be an honest broker in any case concerning our people".
Hamas chief Ismail Haniyeh said: "Our Palestinian people everywhere will not allow this conspiracy to pass, and their options are open in defending their land and their sacred places."
Israelis
Prime Minister Benjamin Netanyahu has not mentioned Mr Trump's decision but he did say in a speech on Wednesday: "Our historical and national identity is receiving recognition, especially today."
Education Minister Naftali Bennett hailed the decision, saying "the United States is adding another brick to the walls of Jerusalem, to the foundation of the Jewish nation", and urged other nations to follow Mr Trump's lead.
Muslim world
Turkey's Prime Minister Binali Yildirim said: "Jerusalem is a very delicate subject in the Islamic world. Our biggest expectation and hope on this matter is that no steps are taken. Impositions, wrong steps in this direction would bring irreversible consequences." President Recep Tayyip Erdogan on Tuesday called it a "red line for Muslims".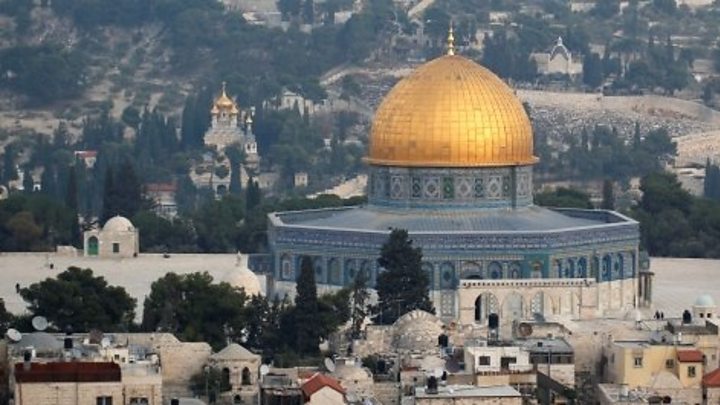 Saudi Arabia media say King Salman told Donald Trump by telephone: "Any declaration on the status of Jerusalem before reaching a final settlement would harm the peace negotiation process and escalate tension in the region."
His views were echoed by President Abdul Fattah al-Sisi of Egypt, who warned against "complicating the situation in the region by introducing measures that would undermine chances for peace in the Middle East".
The Arab League called it "a dangerous measure that would have repercussions" across the region, and also questioned the future role of the US as a "trusted mediator" in peace talks.
The supreme leader of Iran, Ayatollah Ali Khamenei, said: "It is out of despair and debility that they want to declare Jerusalem as capital of the Zionist regime [Israel]. On the issue of Palestine, their hands are tied and they can't achieve their goals."
Meanwhile, Jordan's King Abdullah called for joint efforts to "deal with the ramifications of this decision and to counter any action that undermines the Palestinian people's aspirations for their own independent state, with East Jerusalem as its capital".
International community
Pope Francis said: "I cannot silence my deep concern over the situation that has emerged in recent days. At the same time, I appeal strongly for all to respect the city's status quo, in accordance with the relevant UN resolutions."
United Nations spokesman Stephane Dujarric told reporters: "We have always regarded Jerusalem as a final-status issue that must be resolved through direct negotiations between the two parties based on relevant Security Council resolutions."
The European Union called for the "resumption of a meaningful peace process towards a two-state solution" and said "a way must be found, through negotiations, to resolve the status of Jerusalem as the future capital of both states, so that the aspiration of both parties can be fulfilled".
Both China and Russia also expressed their concern that the move could lead to an escalation of tensions in the region.
UK Foreign Secretary Boris Johnson said: "We view the reports that we have heard with concern, because we think that Jerusalem obviously should be part of the final settlement between the Israelis and the Palestinians, a negotiated settlement."
BBC News Source Link
Brought to you by Planet Genius
If You Liked This Article, Join our Newsletter To Receive More Great Articles