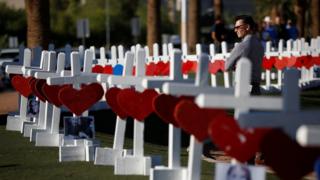 A carpenter from Chicago has driven across the US to place a hand-crafted white cross for every victim at the site of the Las Vegas mass shooting.
Police helped to erect the 58 crosses in single file behind the famous "Welcome to Las Vegas" sign.
Sunday's attack on concert-goers was the deadliest in recent US history.
Carpenter Greg Zanis, who has crafted similar tributes for victims of mass shootings for almost two decades, said he does it "for the families".
Mr Zanis has made memorial crosses for victims of the Columbine school shooting, the Colorado movie theatre killings, and the attack on Sandy Hook Elementary, among others.
"I do it for the families," he told the Chicago Tribune newspaper, adding: "This does not get easier. My heart is not made of wood."
For those whose identities are known, the crosses bear their name and photograph. Two blue hearts have also been placed in the long line in tribute to the police officers who lost their lives.
The memorial stretches some 250 ft (75m) down the boulevard from the iconic welcome sign, which has become a focal point for tributes.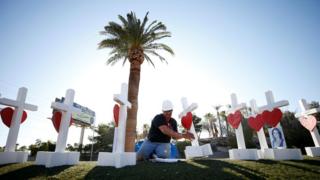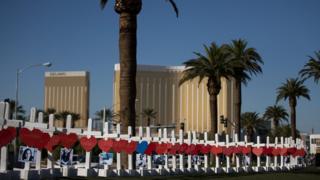 Mr Zanis told the Tribune that he first heard news of the shooting when someone knocked on his door with a donation for the fuel money he would need to travel more than 2,700km (1,700 miles) from his home in Aurora to Las Vegas.
"At first, when he told me what happened, I didn't believe him," he said, adding: "And then I just cried."
The Associated Press news agency said that Mr Zanis has made an estimated 20,000 crosses – for both victims of crime and accidents – over the years, the first of which was for his own father-in-law.
The tributes will be given to the victims' families once they are removed from the boulevard.
BBC News Source Link
Brought to you by Planet Genius
If You Liked This Article, Join our Newsletter To Receive More Great Articles