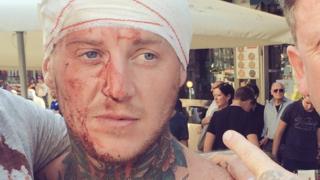 Leicester City fans have been involved in further clashes with Spanish police ahead of their Champions League tie against Atletico Madrid.
Objects have been thrown at police and fans injured, along with smoke bombs being set off.
BBC journalist Phil Mackie confirmed police used baton charges to clear parts of a city square.
Earlier, Spanish police said eight Leicester fans were arrested for "causing a mess" on Tuesday night.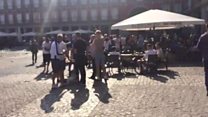 Social media videos from Plaza Mayor, where Leicester fans had been told they could gather, show a group of police being targeted with missiles and fans chanting "Gibraltar is ours".
A witness told BBC 5 live: "There were a couple of people who probably antagonised the police, but then they took out all these people here.
"There were people with children, they came in with batons and there was a 70-year-old man and the kids (in the way)."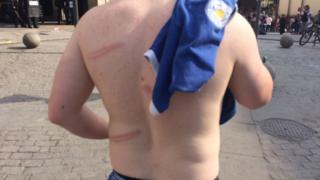 On Tuesday night, Phil Mackie said he witnessed what appeared to be an unprovoked attack on supporters.
He said he witnessed police charging a group of Leicester fans walking in the city centre before three were pushed to the ground, hit with batons and bundled into the back of vans.
Police said six officers were also attacked in the overnight disturbances.
The eight fans arrested remain in custody and will appear in court on Thursday.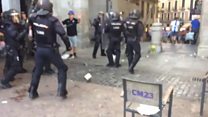 BBC News Source Link
Brought to you by Planet Genius
If You Liked This Article, Join our Newsletter To Receive More Great Articles