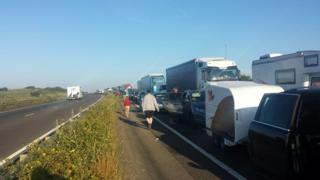 Passengers are facing major delays at the Port of Dover due to increased French security checks.
Ferry companies are advising travellers it is taking four hours to get through passport controls.
Roads leading to the port in Kent are experiencing heavy traffic. Police have advised motorists to expect "very, very long delays".
A port spokesman said heightened checks at the border and the high volume of traffic was behind the delays.
France has been under a state of emergency since last November.
It was brought in after terror attacks in Paris on 13 November left 130 people dead.
Renata Roslak said she and her husband left Birmingham at 19:00 BST on Friday and still had not reached the port.
She said: "It's absolutely horrendous. We have maybe moved half a mile in the last eight hours.
"There isn't even somewhere to turn around and head home.
"I even phoned the police to find out what was happening – we were told that there weren't enough staff to cope with the extra security checks, so ferries are leaving but they aren't full."
BBC News Source Link
Brought to you by Planet Genius
If You Liked This Article, Join our Newsletter To Receive More Great Articles