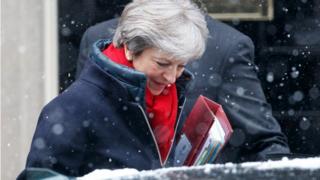 Prime Minister Theresa May will set out five "tests" for a future UK-EU deal and pledge to "bring our country together" in a major speech on Friday.
The "deepest possible" free trade deal is "achievable" because it is in both EU and UK interests, she will argue.
But it must be an "enduring solution" that respects the referendum result, protects jobs and "strengthens our union of nations".
Donald Tusk warned that "friction" in trade was "inevitable" after Brexit.
The European Council president told the prime minister in talks at Downing Street on Thursday: "There can be no frictionless trade outside of the customs union and the single market."
Mrs May has ruled out continuing UK membership of the single market and customs union after Brexit and has rejected an EU plan to keep Northern Ireland in the EU customs area to avoid a hard border with the Republic of Ireland.
But Mr Tusk told her she needed to come up with "a better idea" that would be "as effective in preventing a hard border".
The UK is due to leave the EU on 29 March 2019 but it wants a transition period lasting around two years after that, intended to smooth the way to the future post-Brexit relationship between the UK and the EU.
The prime minister will give more details of what the UK wants for the future relationship in a keynote address in London.
'Take control'
She will pledge to bring the country back together "taking into account the views of everyone who cares about this issue, from both sides of the debate".
---
Analysis
By Laura Kuenssberg, BBC political editor
Fed up with the same old arguments? Feel like every day's news is a repeat of the clashes between Leave and Remain from 2016?
Well, on Friday, cabinet ministers and Number 10 hope that it will feel like things are finally moving on.
After more than a year of the UK government being accused of aiming for an unrealistic shopping list from Brussels, hoping for lots of cake and eating every last crumb, on Friday – to employ the exhausted metaphor – a member of the Cabinet told me it will feel like "Theresa May being honest with the public", complete with some "hard truths".
---
Mrs May is expected to set out five tests to guide the UK in negotiations:
That any deal must respect the referendum result
That any deal must not break down
That any deal must protect jobs and security
That any deal must be "consistent with the kind of country we want to be" – modern, outward-looking and tolerant
That any agreement must bring the country together
She will say the EU referendum result was a vote to "take control of our borders, laws and money" but was "not a vote for a distant relationship with our neighbours".
And Mrs May will say the new agreement must endure so the UK and EU can "forge ahead with building a better future for our people, not find ourselves back at the negotiating table because things have broken down".
She will stress that the UK aims to be "a nation of pioneers, innovators, explorers and creators… a country that celebrates our history and diversity" and "meets its obligations to our near neighbours and far off friends". And any agreement must "strengthen our union of nations" and bring the country together.
'Unique starting point'
On the key issue of post-Brexit trade and the economic partnership, Mrs May will say: "I want the broadest and deepest possible agreement, covering more sectors and co-operating more fully than any free trade agreement anywhere in the world today.
"I believe that is achievable because it is in the EU's interests as well as ours and because of our unique starting point, where on day one we both have the same laws and rules.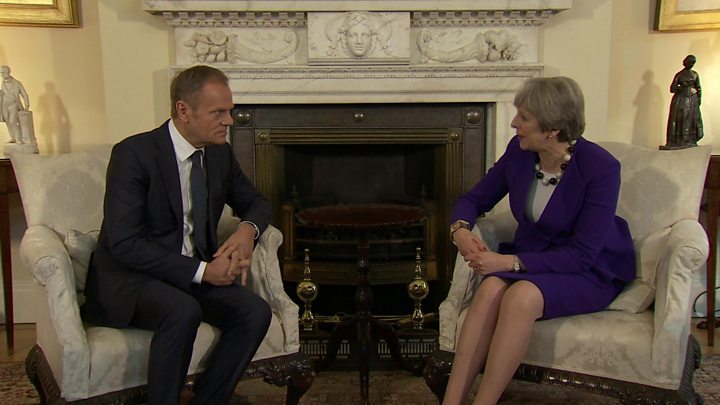 "So rather than having to bring two different systems closer together, the task will be to manage the relationship once we are two separate legal systems."
Cabinet ministers have suggested Friday's speech by Mrs May will give the EU the clarity that it has been seeking about what kind of trade relationship the UK wants after its departure in March next year.
In an apparent concession to the EU ahead of the speech, the government said EU nationals coming to the UK during a transition period after Brexit, expected to last two years, would be able to apply for indefinite leave to remain.
Meanwhile Tory backbencher Jacob Rees-Mogg has accused the EU of "proposing something that would bring down the British government if it were accepted" with its proposal to keep Northern Ireland in the EU customs area.
He told the BBC's Political Thinking with Nick Robinson podcast: "The draft legal text from the commission is very concerning because its not something that [the] Democratic Unionists can go along with. And that means if the government agree to it the government would actually fall."
He added: "That seems to me quite an aggressive move for the EU to take."
BBC News Source Link
Brought to you by Planet Genius
If You Liked This Article, Join our Newsletter To Receive More Great Articles