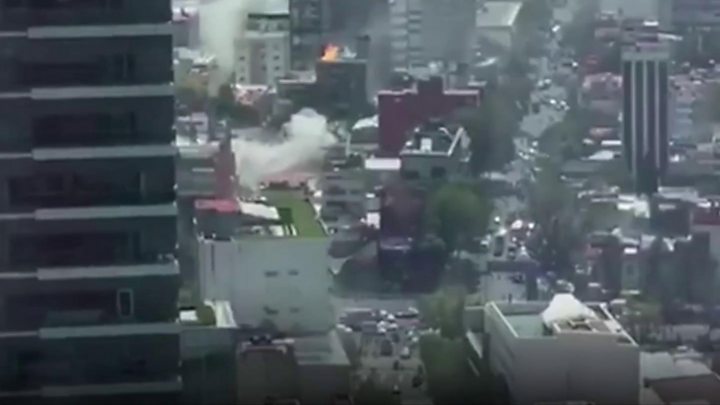 At least 30 people, mostly children, died at a primary school which collapsed in Mexico City during Tuesday's earthquake, local media say.
The shallow, 7.1 magnitude quake killed at least 217 people in total and caused major damage across states in the centre of the country.
Desperate searches for survivors under the rubble are continuing.
Dozens of buildings were toppled, much of the electricity supply was cut and broken gas mains sparked fires.
The tremor struck shortly after many people had taken part in an earthquake drill, exactly 32 years after another quake killed thousands in the capital.
Interactive
See how a Mexico City street looked before and after the quake
After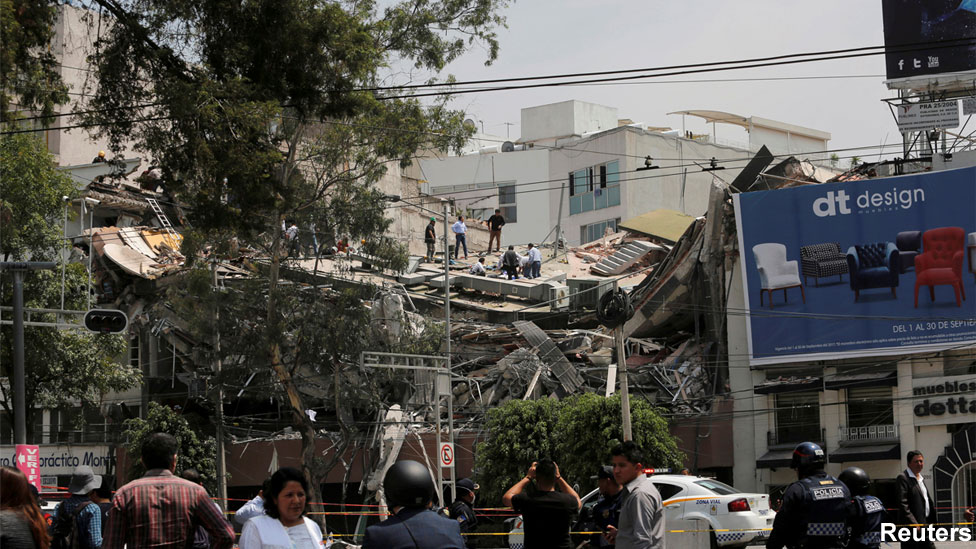 Before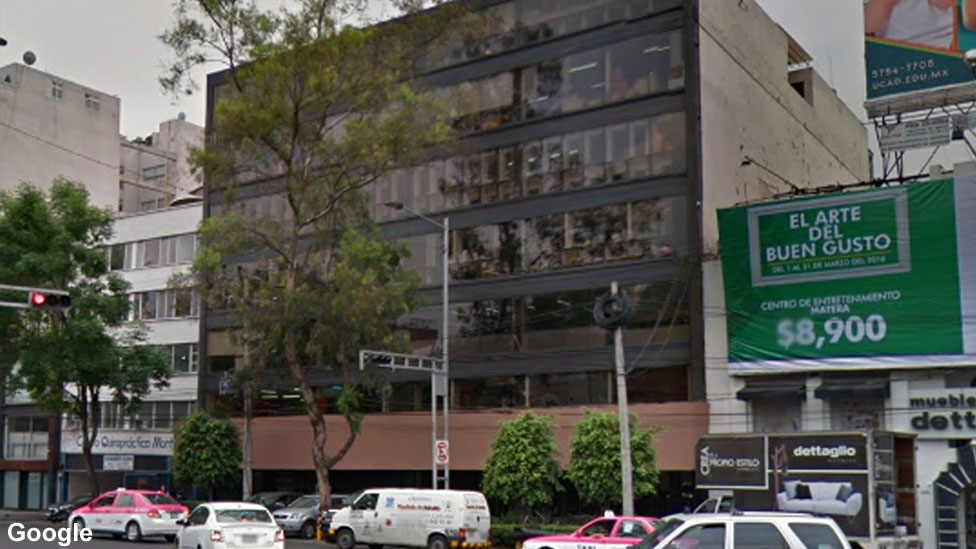 Mexico is prone to earthquakes and earlier this month an 8.1 magnitude tremor in the south left at least 90 people dead.
Though it struck a similar region, Tuesday's earthquake does not appear to be connected with the quake on 7 September, which was at least 30 times more energetic, the BBC's Jonathan Amos writes.
What do we know about the school disaster?
As many as 37 people – 32 children and five adults – died when Enrique Rébsamen primary school collapsed in Mexico City's southern Coapa district, Efe news agency reports, quoting local media.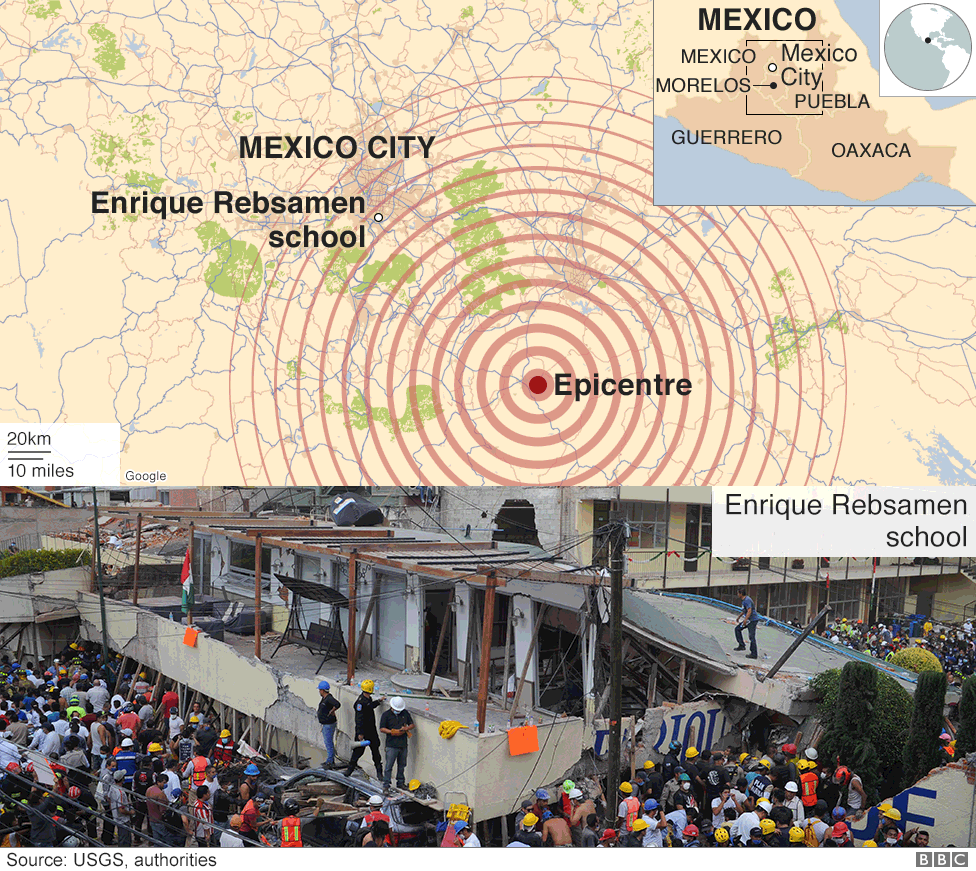 According to Mexican news site Reforma, 30 bodies have been found at the school and 22 people are missing.
More than 500 members of the army and navy, along with 200 police officers and volunteers, have been working at the site, Mexican newspaper Milenio says.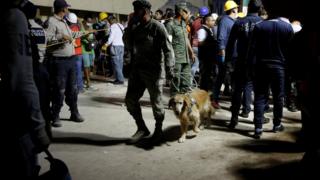 "Some voices have been heard," Mexican President Enrique Peña Nieto said after visiting the rescue operation.
"In the time I have been here, I have seen how at times they have asked for total silence, solidarity to listen for the voices."
At least 209 schools were affected by the quake, 15 of which have suffered severe damage.
Where else was hit?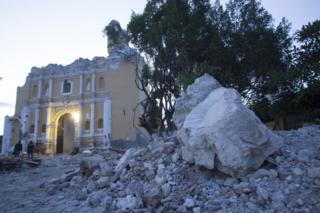 The epicentre of the latest quake was near Atencingo in Puebla state, about 120km (75 miles) from Mexico City, with a depth of 51km, the US Geological Survey says.
The prolonged tremor hit at 13:14 local time (18:14 GMT) on Tuesday and sent thousands of residents into the streets.
Most of the victims died in the capital, according to government figures:
Mexico City: 86 dead
Morelos state: 71 dead
Puebla state: 43 dead
Mexico state: 12 dead
Guerrero: 4 dead
Oaxaca: 1
Fifteen people were killed when a church near Mexico's Popocatepetl volcano collapsed during Mass. The volcano itself had a small eruption as a result of the tremor.
Alfredo del Mazo Maza, governor of the State of Mexico, said schools would be closed on Wednesday. He also ordered all public transport to operate services for free so that people could travel home.
Buildings at 44 locations collapsed or were badly damaged, Mexico City Mayor Miguel Angel Mancera told TV network Televisa. These are said to include a six-storey block of flats, a supermarket and a factory.
Have you been affected by the earthquake? If it is safe to do so you can email your story to haveyoursay@bbc.co.uk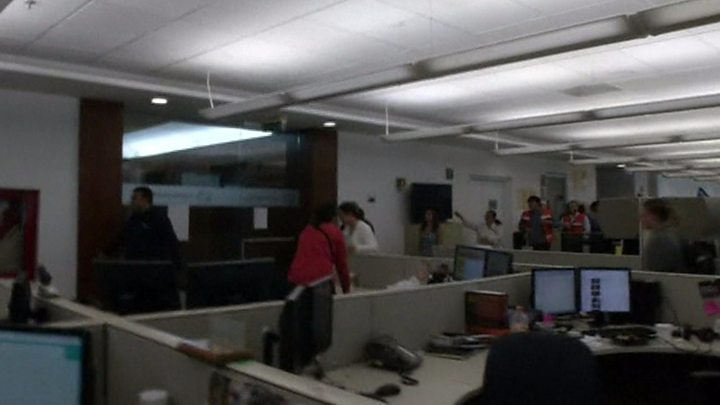 What happened in 1985?
An earthquake drill was being held in Mexico City on Tuesday to mark the 32nd anniversary of a magnitude 8 quake that killed up to 10,000 people and left 30,000 others injured.
The severe tremor caused serious damage to Mexico City and its surrounding areas, with more than 400 buildings collapsed and thousands more damaged.
Correspondents say that residents may have mistaken earthquake alarms for part of the day of drills in the wake of the 1985 quake.
Mexico City is one of the most densely populated cities in the world, with more than 20 million people living in the metropolitan area.
Why is Mexico so prone to earthquakes?
Mexico is one of the most seismically active regions in the world, sitting on top of three of the Earth's largest tectonic plates – the North American, Cocos and Pacific plates.
The latest tremor occurred near the boundary between the North American and Cocos plates, where the latter slides beneath the former.
According to the US Geological Survey, the country has seen 19 earthquakes of at least 6.5 magnitude within 155 miles of the epicentre of Tuesday's quake over the past century.
How has the world reacted?
Foreign leaders sent messages of support as the scale of the disaster became clear:
US President Donald Trump, who has courted controversy with his plans for a border wall with Mexico, tweeted: "God bless the people of Mexico City. We are with you and will be there for you"
Canadian Prime Minister Justin Trudeau also tweeted his support following the "devastating news"
Costa Rican President Luis Guillermo Solis, in New York for the UN General Assembly, expressed his "solidarity" with the Mexican people
Pope Francis said his thoughts and prayers were with the families of those who had lost loved ones in the "devastating" quake. "In this moment of pain I want to express my closeness and my prayer to all of the beloved Mexican population," the pontiff said at the Vatican
The Mexican government issued the following guidance on what to do if a quake strikes in the country:
stay calm
find the evacuation route and meeting point
stay away from windows and objects that may fall
in case of emergency call 911
do not use lifts
The UK Foreign Office has said that those travelling to Mexico should follow the advice of the local authorities.
---
Have you been affected by the earthquake? If it is safe to do so you can email your story to haveyoursay@bbc.co.uk.
Please include a contact number if you are willing to speak to a BBC journalist. You can also contact us in the following ways:
BBC News Source Link
Brought to you by Planet Genius
If You Liked This Article, Join our Newsletter To Receive More Great Articles