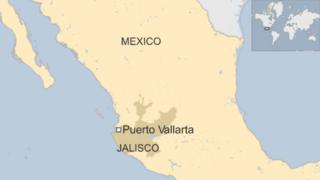 Heavily armed men in Mexico have abducted at least 10 people who were dining in a restaurant in the popular seaside resort of Puerto Vallarta.
The hostages were taken away in two big utility vehicles.
Police in the western state of Jalisco are trying to locate four women who either escaped or were set free by the gang.
The incident took place in an area close to Puerto Vallarta's main tourist attractions.
The motive for the attack is unclear.
It happened at 01:00 local time (07:00 BST) on Monday.
Local media reported that up to 16 men had been abducted.
"Seven or eight armed men stormed the restaurant and told the customers to lie on the ground. We don't really know what happened after that," said Puerto Vallarta's Security Commissioner Jesus Jose Rodrigo Campoy.
Security guards apparently ran away as they saw the gang approaching the restaurant, El Informador newspaper reported.
BBC News Source Link
Brought to you by Planet Genius
If You Liked This Article, Join our Newsletter To Receive More Great Articles