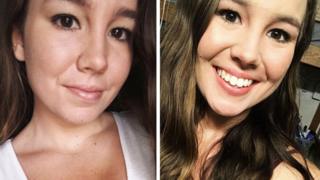 The Iowa college student killed during a jog this month died from "multiple sharp force injuries", according to a post-mortem examination.
The Iowa State Medical Examiner determined that Mollie Tibbetts' death was a homicide, but did not specify what caused the fatal wounds.
A farm worker has been charged in the 20-year-old's death last month.
The killing has recharged the US debate over illegal immigration after it emerged the suspect was Mexican.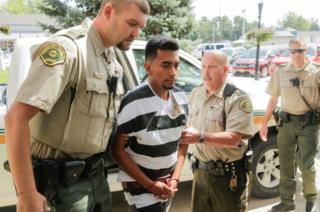 Ms Tibbetts disappeared on 18 July while out for an evening run in the small central Iowa town of Brooklyn, while dog-sitting for her boyfriend.
The suspect, Cristhian Bahena Rivera, was charged on Wednesday with first-degree murder and held on $5m cash-only bail.
He passed himself off as a legal US resident while working for the last four years at a local family dairy farm, according to his employer.
But investigators say the 24-year-old was illegally living and working in the US on fake documents.
Dane Lang, the manager of Yarrabee Farms, says no one noticed anything different about the accused's behaviour following the murder.
In an arrest affidavit, the accused confessed to following Ms Tibbetts on her run and getting "very upset" after she threatened to call the police.
But he said what happened next was "blocked" from his memory.
According to court documents, the next thing he can recall is sitting in his car and realising the student's body was in the boot of the vehicle.
Police say he told them he carried her to a cornfield and left her there.
The breakthrough in the investigation came from CCTV images that captured the suspect's black Chevy Malibu "driving back and forth" near the crime scene.
BBC News Source Link
Brought to you by Planet Genius
If You Liked This Article, Join our Newsletter To Receive More Great Articles