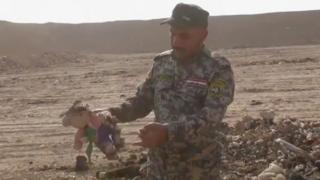 Iraqi forensic experts are investigating a mass grave that was discovered by troops advancing towards the Islamic State-held city of Mosul.
The Iraqi military has said the grave, in the grounds of an agricultural college in the town of Hamam al-Alil, contains about 100 decapitated bodies.
Most have been reduced to skeletons, so it is unclear who the victims were.
IS militants have carried out many mass killings and have been accused of fresh atrocities in the area in recent weeks.
They are being forced to retreat to Mosul, the last major IS urban stronghold in Iraq, in an offensive by pro-government forces that began on 17 October.
Iraqi troops found the mass grave after noticing a strong smell while advancing into the town, about 30km (19 miles) south of Mosul, on Monday.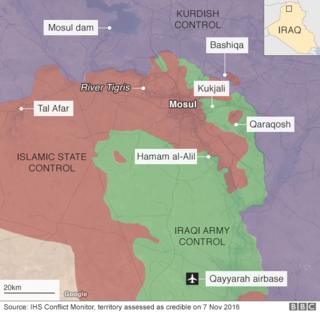 A bulldozer sent to the site, beside an earthen embankment, unearthed bones and decomposed bodies, along with scraps of clothing and plastic bags.
It was not immediately known if the victims were security forces personnel or civilians. But video footage from the Associated Press showed a soldier holding up a child's stuffed animal found at the grave.
A member of the Nineveh provincial council, Abdul Rahman al-Waggaa, said IS militants had used the agricultural college as "a killing field" for hundreds of people in the days before troops, police and militiamen retook the town.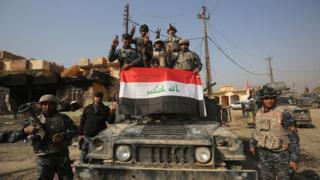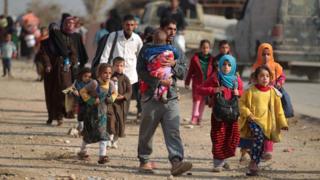 "They would torture them inside and then take them out of the neighbourhood and either shoot them or slit their throats," he told Reuters news agency.
A former English teacher from Hamam al-Alil meanwhile said he had seen IS militants dragging civilians to a makeshift jail near his home and then sending them in the middle of the night to be killed.
"The devil himself would be astounded by Daesh's methods of torture. It is beyond the imagination," Riyad Ahmed told Reuters, using a pejorative term for IS based on the Arabic acronym of the jihadist group's previous name.
In 2014, the jihadists carried out mass killings of security forces personnel and members of ethnic and religious minorities as they swept across northern Iraq after taking control of Mosul, boasting about them in photos and videos circulated online.
Since the operation to recapture Mosul was launched three weeks ago, the UN has received reports that militants have carried out fresh atrocities.
On 29 October, they are alleged to have killed 40 former soldiers from the Hamam al-Alil and Shura areas, and thrown their bodies into the River Tigris.
Two days later, they are reported to have brought lorries and minibuses to Hamam al-Alil in an attempt to forcibly transfer some 25,000 civilians to locations in and around Mosul for use as human shields. Most of the vehicles were prevented from leaving by US-led coalition aircraft patrolling the area, according to the UN.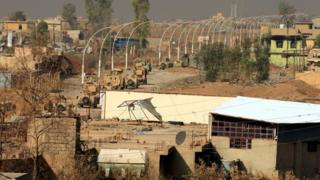 Also on Tuesday, Kurdish Peshmerga fighters reportedly took complete control of the town of Bashiqa, about 12km north-east of Mosul, a day after launching an assault to retake it.
Jabar Yawar, secretary-general of the Kurdistan Regional Government's ministry of Peshmerga affairs, told AFP news agency that forces were sweeping the town for militants hiding inside buildings and tunnels. At least 13 were killed while trying to escape on Tuesday, he said.
Meanwhile, Iraqi special forces and army units continued to clear eastern districts of Mosul, a week after they entering the city for the first time in two years. Life quickly resumed in Hamam al-Alil, with some residents reopening shops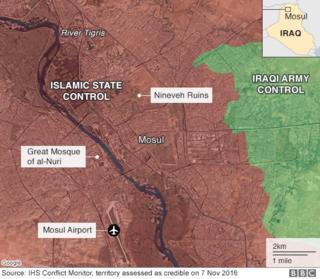 BBC News Source Link
Brought to you by Planet Genius
If You Liked This Article, Join our Newsletter To Receive More Great Articles