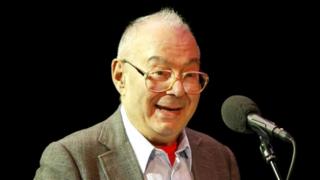 Rabbi Lionel Blue, a regular on BBC Radio 4's Thought for the Day and the first openly gay British rabbi, has died aged 86.
Rabbi Blue, from London, was known for his liberal teachings and supporting other gay members of his faith.
Representatives from the liberal synagogue Beit Klal Yisrael described him as "an inspirational man" who "spoke with such wisdom and humour".
Rabbi Blue was made an OBE for his services to broadcasting.
Rabbi Blue was born in 1930 and struggled with his sexuality through his teens, leading to a nervous breakdown that saw him leave the army.
But after reading history at Balliol College, Oxford, and Semitics at the University of London, he rediscovered his faith and was ordained in 1960.
Soon after, he came out publically and throughout his life lent his support to organisations including Liberal Judaism UK and the World Congress of Gay, Lesbian, Bisexual and Transgender Jews.
Announcing his death on the synagogue's Facebook page, Beit Klal Yisrael representatives wrote: "Lionel was a wonderful and inspirational man, who spoke with such wisdom and humour and whose words reached out far beyond the Jewish community.
"He was a friend and mentor to many and his courage in coming out as gay in the 1970s paved the way for many other Jews, including many Rabbis.
"We will not see his like again. May his memory be for a blessing."
BBC News Source Link
Brought to you by Planet Genius
If You Liked This Article, Join our Newsletter To Receive More Great Articles