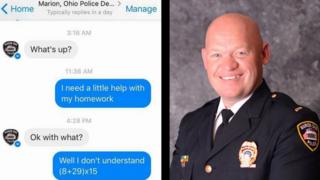 Every child knows when you are in trouble, you call the cops.
But it is fair to say, no police officer expects that trouble to be related to the complexities of a 10-year-old's maths homework.
Yet when faced with just such an issue, one brave officer in Marion, Ohio, stepped up to the mark.
Lena Draper decided to use Facebook to get in touch with her local police force, sending them an appeal for help at the weekend.
"I am having trouble with my homework. Could you help me?" she asked.
"What's up?" asked officer BJ Gruber – potentially regretting it immediately as it was maths, with the added complication of a few brackets.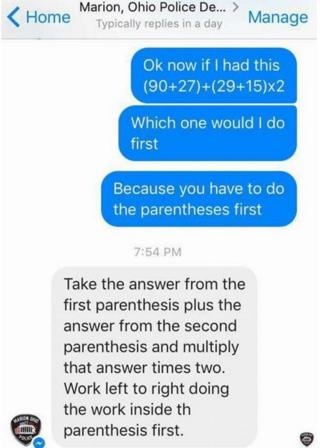 Unfortunately, after correctly answering the first question, Lt Gruber went a bit wrong in the second – but the Police Department in Marion, Ohio, are still seeing the episode as a win.
"We are nailing our goals of increasing trust, transparency & being approachable. Still a work in product on the math skills," the force wrote on its Twitter page after Lena's mum Molly uploaded screenshots of the conversation to Facebook, sending it viral.
As for Lena, she knows she can't always rely on the police to help her with her homework. But she does have a backup plan.
"Well, I'd call Ghostbusters then," she told Inside Edition.
BBC News Source Link
Brought to you by Planet Genius
If You Liked This Article, Join our Newsletter To Receive More Great Articles