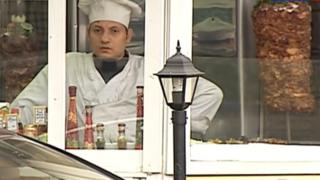 Moscow city council appears to have beaten a hasty retreat after threats to close down the Russian capital's kebab kiosks sparked a lively online campaign to save them.
The head of Moscow's department of trade and services, Alexei Nemeryuk, prompted the outcry when he told the Komsomolskaya Pravda daily that the ubiquitous stalls selling shawarma or shaurma – as doner kebabs are variously known in Russia – would be removed because of concerns over hygiene. "We're eliminating shawarma from the streets," he told the paper. "It won't exist anymore."
The comments quickly spawned the Russian hashtag #ShawarmaStayAlive, along with a slew of mocking images and declarations of love for the meaty treat. Mayor Sergei Sobyanin was portrayed as St George – Moscow's patron saint – spearing a kebab, and one social media user mourned "the day the kebab stopped turning". Another tried to estimate how many days a human could survive without the snack (a maximum of 11, apparently).
President Vladimir Putin was invoked in support of kebabs, and some warned of a "Shawarmaidan" along the lines of the Ukraine's Euromaidan uprising. Even state TV channel Rossiya waded in with an online story wondering whether it was "Do svidanya shawarma" – goodbye shawarma.
Mr Nemeryuk has since denied any plans to move against kebabs, saying his initial comments were misinterpreted for "technical reasons". "It was about a single individual kiosk somewhere – people complained about it," he told the TV station Dozhd. "There is no ban on shawarma; it is available, it is being sold, you can also get it in restaurants."
Next story: Japan region revises 'patronising' Chinese tourist guide
Use #NewsfromElsewhere to stay up-to-date with our reports via Twitter.
BBC News Source Link
Brought to you by Planet Genius
If You Liked This Article, Join our Newsletter To Receive More Great Articles