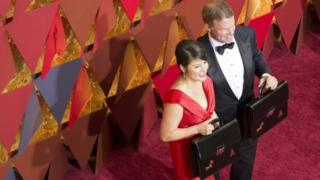 The two accountants who muddled up the main award envelopes at Sunday's Oscars ceremony have been given bodyguards following reports they have received death threats on social media.
Accountancy firm PricewaterhouseCoopers (PwC) said security has been beefed up at the residences of Brian Cullinan and Martha Ruiz following the mistake.
Celebrity website TMZ.com said the pair were in fear of their lives.
On Wednesday it emerged they will not be employed to do the Oscars job again.
But TMZ.com reported that they will not lose their accountancy jobs.
PwC spokeswoman Carey Bodenheimer said that they had been given protection after their home addresses and photos of their families were published in the media.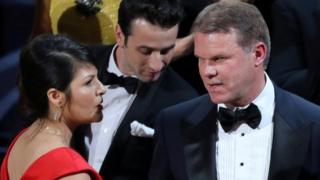 This is why both PwC accountants have been banned
How did the Oscars mistake happen?
On Sunday La La Land was mistakenly named best picture instead of winner Moonlight.
The team behind La La Land were interrupted mid-acceptance speech before the real winner was revealed.
It has been described as the biggest mistake in 89 years of Academy Awards history.
Mr Cullinan mistakenly handed the wrong envelope to the two presenters, Warren Beatty and Faye Dunaway.
The were given the back-up envelope for best actress in a leading role – rather than the envelope which contained the name of the winner for the best film.
PwC counts the votes and organises the envelopes. It has apologised for the mix-up.
Academy President Cheryl Boone Isaacs on Wednesday said that the relationship with PwC was now under review.
Mr Cullinan tweeted a picture of best actress winner Emma Stone minutes before handing the presenters the wrong envelope, and Ms Boone Isaacs blamed "distraction" for the error.
BBC News Source Link
Brought to you by Planet Genius
If You Liked This Article, Join our Newsletter To Receive More Great Articles