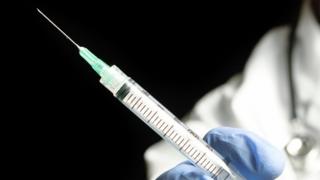 Pakistani police have arrested four people accused of stealing spinal fluid from women.
The suspects told women they had to provide blood samples to qualify for financial assistance from the Punjab government, police told BBC Urdu.
However, they extracted spinal fluid instead, and attempted to sell it on the black market, police added.
The gang is thought to have stolen spinal fluid from over 12 women, including a teenager.
"It appears the gang has been active in the Hafizabad area for some time," regional police officer Ashfaq Ahmed Khan told BBC Urdu's Shahzad Malik.
One member "went around posing as an employee of the District Headquarters Hospital, telling his victims they would need to provide blood samples in order to qualify for the Punjab government's dowry fund".
"But instead of taking them to the hospital to obtain their 'blood samples', he would take them to the house of a female member of the gang to perform the procedure," Mr Khan added.
The authorities became aware of the scheme after a man noticed that his 17-year-old daughter felt weak after the procedure.
The health ministry has set up a committee to investigate the fraud, while the four gang members are currently in police custody.
Spinal fluid is a transparent liquid found around the brain and spinal cord that protects them from shock and injury. It can be extracted by inserting a needle into the spinal canal.
It is not the first time a health-related scam has made headlines in Pakistan.
In late 2016, police rescued 24 people held hostage by an organ trafficking gang in Rawalpindi.
Pakistan made the sale of human organs illegal in 2010, but experts say the country is still a hot spot for organ trafficking.
BBC News Source Link
Brought to you by Planet Genius
If You Liked This Article, Join our Newsletter To Receive More Great Articles