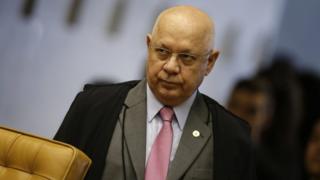 A plane carrying a prominent Brazilian Supreme Court judge has died in a plane crash off Rio de Janeiro.
Teori Zavascki was overseeing a massive corruption investigation related to the state oil company, Petrobras.
The scandal has rocked the country and led to mass street protests.
Dozens of politicians and some of Brazil's wealthiest businessmen have been arrested as part of the inquiry, known as Operation Car Wash, over the past two years.
They include former President Luiz Inacio Lula da Silva.
The political crisis triggered by the Petrobras investigation eventually led to the impeachment of President Dilma Rousseff in September.
Brazil's continuing corruption problem
What has gone wrong in Brazil?
Ms Rousseff was not directly implicated in the scandal and was dismissed for allegedly tampering with the budget.
But many politicians close to the governing coalition were arrested and charged for taking bribes from Petrobras.
Prosecutors say they were paid vast amounts in exchange for granting lucrative contracts to private companies that had overcharged Petrobras.
BBC News Source Link
Brought to you by Planet Genius
If You Liked This Article, Join our Newsletter To Receive More Great Articles