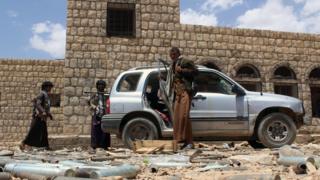 The Saudi-led coalition supporting government forces in Yemen has said it will respect a UN-backed ceasefire coming into force from Monday.
There has been no word yet from the Iranian-backed Houthi rebels who are trying to overthrow the government.
More than 6,000 people have been killed and 2m displaced in more than a year of fighting between the two sides.
Negotiations on ending the conflict are due to be held later this month in Kuwait.
"The Arab coalition is going to respect a ceasefire in Yemen starting from midnight Sunday at the demand of President [Abdrabbuh Mansour] Hadi but reserves the right to respond" to any rebel attacks, the coalition statement said.
A further 20 people were reportedly killed in clashes on Sunday, hours before the truce was due to come into effect.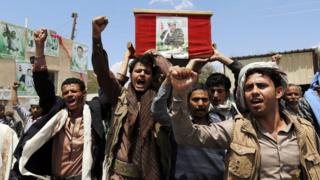 Previous UN-sponsored negotiations have failed to make progress and a ceasefire last December was abandoned after repeated violations.
On Saturday, President Hadi said he was taking the Kuwait negotiations seriously.
But he insisted the Houthis agree to abide by a UN Security Council resolution, calling from their withdrawal from seized territory and disarmament.
The Houthis – backed by Iran and supported by former President Ali Abdullah Saleh – took over the capital Sanaa and much of the west of he country in 2014.
---
Why is there fighting in Yemen?
Northern Shia Muslim rebels known as Houthis, backed by forces loyal to Yemen's ex-president, took over parts of Yemen, including the capital, Sanaa, and forced the government into exile in March 2015
The rebels accused the government of corruption and of planning to marginalise their heartland within a proposed federal system
Forces loyal to the government and Southern militias, aided by Saudi-led coalition air strikes and troops, have since regained control of five southern provinces
Yemen's humanitarian catastrophe
Meeting the Houthis and their enemies
---
BBC News Source Link
Brought to you by Planet Genius
If You Liked This Article, Join our Newsletter To Receive More Great Articles