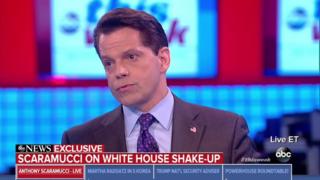 Fired White House communications director Anthony Scaramucci says there are people in Washington working against President Donald Trump.
He said there are "elements" within the White House trying to eject Mr Trump.
He spoke to ABC News for the first time since being sacked last month – after just 10 days in office.
It followed the release of a phone recording in which he launched a strongly worded attack on White House Chief of Staff Reince Priebus.
He also directed profanity-laced insults at Chief Strategist Steve Bannon.
Mr Scaramucci said he had thought the interview was off the record.
"What happens in Washington… is the president is not a representative of the political establishment class, so for whatever reason the people have made a decision that they want to eject him," he told George Stephanopoulous of ABC News on Sunday.
"I think there are elements inside of Washington, also inclusive in the White House, that are not necessarily abetting the president's interests or his agenda."
When asked to identify the individuals, he said he had already "named some names" and strategic changes were in place.
However, he said the president needed to bring in "more loyalists" in order to carry out his agenda.
BBC News Source Link
Brought to you by Planet Genius
If You Liked This Article, Join our Newsletter To Receive More Great Articles