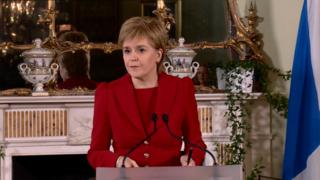 Scotland's first minister has said a second independence referendum is "highly likely" after the UK voted to leave the EU.
Nicola Sturgeon said it was "democratically unacceptable" that Scotland faced the prospect of being taken out of the EU against its will.
She said the Scottish government would begin preparing legislation to enable another independence vote.
Scotland voted in favour of the UK staying in the EU by 62% to 38%.
The UK as a whole has voted to Leave, prompting David Cameron to announce he would stand down as prime minister by October.
At a news conference at Bute House, Ms Sturgeon said the Scottish cabinet would meet on Saturday to discuss its next steps.
BBC News Source Link
Brought to you by Planet Genius
If You Liked This Article, Join our Newsletter To Receive More Great Articles