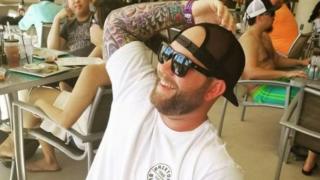 Christopher Roybal, a 28-year-old Navy veteran from California, survived serving in Afghanistan. However, he lost his life enjoying a country music festival in Las Vegas at the weekend.
Christopher was one of at least 59 people killed when Stephen Paddock opened fire on crowds attending the Route 91 festival on Sunday.
Christopher's mother, Debby Allen, was also at the concert. She expressed how her "heart is broken into a billion pieces" in a Facebook post.

Speaking to the BBC, Ms Allen described her son as "the most amazing man I ever met. He lived life to the fullest".
"To have him in your life was to have a true friend. He was so funny, charismatic, polite. He loved to sing."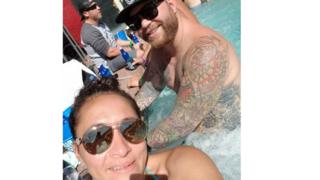 Reflecting on the impact of the the tragic events of Sunday night, Ms Allen added: "I have a permanent void in my heart. My baby was my best friend. My ride or die.
"My son's passing has devastated all of us."
Having served in the US military, Christopher was often asked what it was like to be shot at. In a public post on Facebook from July he explained the "genuine fear [and] anger" he experienced as a result of coming under fire.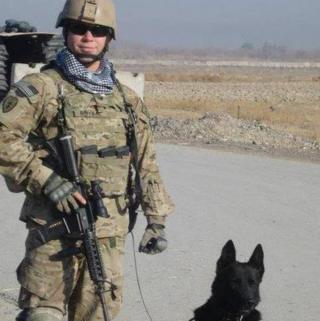 Christopher wrote: "What's it like to be shot at? It's a nightmare no amount of drugs, no amount of therapy and no amount of drunk talks with your war veteran buddies will ever be able to escape."
Remembering his time in Afghanistan, he described the "mass confusion" and "sensory overload" of being in a conflict zone.
Matthew Austin, a friend of Christopher, wrote on Facebook they joined the navy when they were "just boys".
He added: "It breaks my heart and infuriates me that a veteran can come home from war unharmed and events like these occur."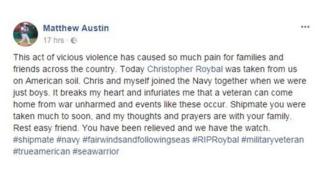 Speaking of the legacy of conflict, Christopher described the lasting anger he felt.
"Anger is all that's left. The anger stays, long after your friends have died, the lives you've taken are buried and your boots are placed neatly in a box in some storage unit. Still covered in the dirt you've refused to wash off for fear of forgetting the most raw emotions you as a human being will ever feel again."
By George Pierpoint, UGC and Social News team
BBC News Source Link
Brought to you by Planet Genius
If You Liked This Article, Join our Newsletter To Receive More Great Articles