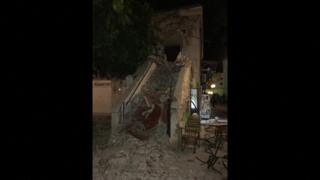 A strong earthquake in the Aegean Sea has killed at least two people on the Greek island of Kos, officials say.
The 6.7-magnitude quake hit 12km (seven miles) north-east of Kos, near the Turkish coast, with a depth of 10km, the US Geological Survey said.
Several others were injured on Kos, mayor George Kyritsis said.
A small tsunami was reported on the Turkish coast. Pictures on social media showed people walking with water lapping their ankles.
BBC News Source Link
Brought to you by Planet Genius
If You Liked This Article, Join our Newsletter To Receive More Great Articles