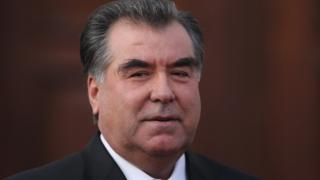 The people of mainly Muslim Tajikistan are voting on a ban on religion-based parties, in a poll likely to strengthen the president's power.
Emomali Rakhmon has ruled the ex-Soviet Central Asian republic since 1992, surviving a civil war which ended in a deal with the Islamist opposition.
Moves to ban the opposition Islamic Renaissance Party began last year.
Sunday's referendum also asks voters to lift limits on the number of terms a president can serve in office.
It further proposes lowering the age limit for running for president from 35 to 30 – a move that would theoretically allow Mr Rakhmon's son Rustam, who is 29, to run for office in 2020.
The three points are contained in a parliamentary bill on amendments to the constitution.
The single question on the ballot form is "Do you support the amendments and additions to the constitution of the country?"
Tajikistan is one of the poorest countries in the region and relies heavily on Russia, with remittances from citizens working abroad – mainly in Russia – making up half of the country's GDP.
Since the power-sharing agreement that ended the bloody civil war in 1997, Islamists have been gradually pushed out of the government.
Fears have also grown that the Afghan conflict could spill across Tajikistan's border.
---
Rakhmon's hold on power: Abdujalil Abdurasulov, BBC News
Emomali Rakhmon has been in power since 1992, and has managed to increase his power by cracking down on political dissent and freedom of expression.
Mr Rakhmon has substantial public support – and his rather serious face can be seen on posters across Tajikistan.
People sing his praises and dedicate poems to him. And huge crowds turn up to presidential rallies – although attendance is obligatory for state employees.
Mr Rakhmon's supporters are grateful the civil war of the 1990s is over – but life is not easy for most Tajiks.
BBC News Source Link
Brought to you by Planet Genius
If You Liked This Article, Join our Newsletter To Receive More Great Articles