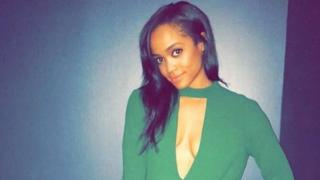 One of the most popular reality TV programmes in the US has cast an African-American lead. People are asking: what took so long?
It was no huge surprise that Monday night's announcement of the latest lead in America's most popular reality TV dating show franchise, The Bachelorette, got Twitter excited. But this announcement was, in the words of its producer Mike Fleiss, "historic".
That's because after 16 years and 33 seasons, the ABC franchise cast 31-year-old lawyer Rachel Lindsay as its first black Bachelorette. There has only been one previous minority lead. In 2013, Juan Pablo Galavis, a Venezuelan-American, was cast as the Bachelor.
The reveal of Lindsay resulted in the trending hashtag #BlackBachelorette and a doubling of her Twitter following. Twitter told BBC Trending that the micro-blogging site "went wild hearing the news" when it was revealed on the Jimmy Kimmel show, and that within moments there were "more than 36,000 Twitter mentions of Rachel (@therachlindsay)".
The vast majority of the tweets expressed support for Lindsay.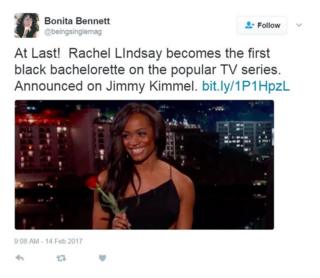 The franchise
The first season of the Bachelor premiered on ABC in 2002. A group of women competed for the affection of one man. The programme involved extravagant dates in exotic locations as contestants were eliminated week-by-week during a "rose ceremony" (you guessed it, the unsuccessful contestants do not get a rose).
The traditional aspects of a relationship all took place on camera – like hometown dates, and meeting each other's families. Then there were overnight "Fantasy Suite" dates for the final three contestants. The cameras were not allowed in the room.
That first season witnessed all the tears and tantrums you'd expect as as twenty-odd women simultaneously dated the same man. That first series ended with a proposal (but not, in the end, a marriage).
The runner up, Trista Rehn, was named the Bachelorette – and she went on to lead in the following series, with two dozen men competing for her affections. Rehn married her chosen beau Ryan Sutter in 2003, and the two remain together. In all but two seasons, the show has concluded with a marriage proposal.
The formula, with male and female leads switching off each series, proved to be gold – the show has consistently been one of America's most popular, averaging more than 7 million viewers per episode, according to market research company Nielsen.
---
More from BBC Trending
Visit the Trending Facebook page
---
Spoofing
Lindsay has been the only black female contestant on the franchise to have made it to the top four.
That in itself has been a subject spoofed on satire shows like Saturday Night Live.
"Tell me about yourself," asks the male lead.
"I'm the Black One," replies the woman.
"Let me walk you out."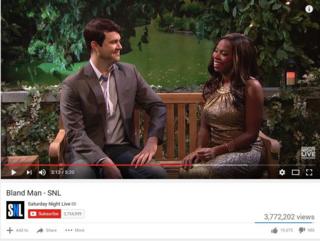 "Like horror movies in which loose women and black characters are killed off quickly, the fate of the shows' non-white cast members has become a recognisable trope," wrote the Los Angeles Times.
Fleiss, the show's creator, addressed the issue in a 2011 interview with Entertainment Weekly, claiming that he would like to cast more people of colour on the show, but "for whatever reason, they don't come forward."
However another reality TV producer Shawn Ryan tweeted his suspicion that the show's producers "just don't think America will watch black bachelor or root for mixed-race marriage."
Controversy
In 2012, two would-be black contestants brought a lawsuit against the franchise for under-representing minorities. The suit alleged that ABC deliberately cast fewer people of colour in the pool of contestants – and that the show was nervous that interracial romance may "create controversy among its audience."
That suit was dismissed, but some tweeters felt that due to her race, the next Bachelorette was set a higher bar in order to qualify in the lead role than other previous contestants.
Lindsay, who is a civil ligation lawyer, is the daughter of Sam Lindsay, who was nominated by President Bill Clinton to be a federal judge in Texas.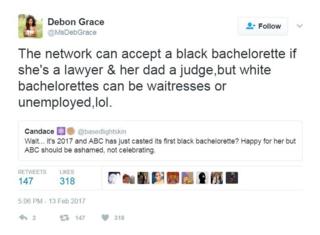 'Cookie cutter'
Prior to Monday's announcement about Lindsay, former Bachelorette contestant Wells Adams speculated that a black Bachelorette might not be a successful move for the show.
"I think the franchise wants to so badly break out of its cookie-cutter, white-person shell, but I don't think that America will embrace it, sadly enough," he said.
And after the announcement, others online seemed to echo this thought.

And the timing of the announcement surprised many. Traditionally, ABC announces the next Bachelorette or Bachelor after the season's final episode. Lindsay is a yet-to-be-eliminated contestant on the current season of the show. Some fans, who call themselves "Bachelor Nation", called the reveal a "premature spoiler".
Former Bachelorette Ali Fedotowsky told Access Hollywood that the announcement had come so soon in order to take the discussion over diversity into account.
"They needed to let people of all different backgrounds and races and cultures that we're mixing it up this season," she said.
Bachelor Nick Viall shared an Instagram photo of the two of them after the announcement, writing that "no one is better prepared to show Bachelor Nation, and the world, the beauty of embracing diversity. Good luck Rachel, not that you'll be needing it."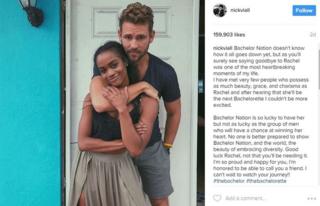 Meanwhile, Lindsay told People magazine, "I'm obviously nervous and excited to take on this opportunity but I don't feel added pressure being the first black Bachelorette, because to me I'm just a black woman trying to find love. Yes, I'm doing on this huge stage, but again my journey of love isn't any different just because my skin colour is."
Blog by Megha Mohan
Next story: 'Fake news city' is now pumping out odd Facebook videos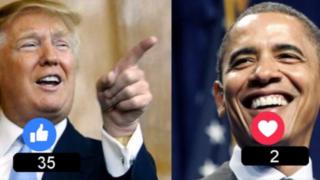 Fake news writers are producing strange, static videos that appear designed to boost pro-Donald Trump Facebook groups.READ MORE
You can follow BBC Trending on Twitter @BBCtrending, and find us on Facebook. All our stories are at bbc.com/trending.
BBC News Source Link
Brought to you by Planet Genius
If You Liked This Article, Join our Newsletter To Receive More Great Articles