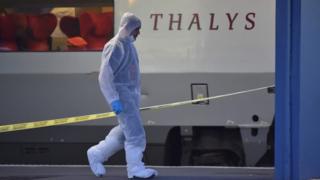 Two people have been charged in Belgium over an August 2015 attack on a French high-speed train travelling from Amsterdam to Paris.
The pair were charged with participating in "the activities of a terrorist group", prosecutors said.
They are suspected of helping Moroccan gunman Ayoub El-Khazzani, who was overpowered by passengers, including three Americans and a Briton, after he opened fire on the Thalys train.
No one died in the incident.
The suspects charged were among four people detained on Monday in Belgium after police raids. The other two people were released after being questioned.
Mr El-Khazzani, 26, is awaiting trial in France. He fought for the Islamic State group in Syria and has told investigators that he was acting under the guidance of Paris attacks' organiser Abdelhamid Abaaoud, the AFP news agency reports.
The suspect was armed with a Kalashnikov assault rifle, 270 rounds of ammunition a pistol, a bottle of petrol, a box-cutter and a hammer when he boarded the train, according to French prosecutors, who said he intended to carry out mass slaughter.
But quick-thinking passengers, including two off-duty American servicemen, managed to tackle him.
Then French President François Hollande personally awarded France's top honour to the four responsible for foiling the attack.
BBC News Source Link
Brought to you by Planet Genius
If You Liked This Article, Join our Newsletter To Receive More Great Articles