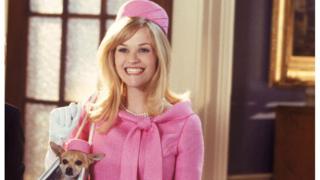 For Legally Blonde fans all over the world – this is the ultimate moment.
Meeting Reese Witherspoon and handing over the dissertation you spent long nights pouring every part of your being into.
Reporter Lucy Ford's university essay focussed on the 2001 film and its role in creating strong female characters.
Speaking to BBC News after delivering it to Witherspoon in person, Ford says: "It was absolutely insane that I was able to do that."
She says the dissertation was "basically a 15,000 word love letter" to Legally Blonde.
Ford, who is an entertainment reporter for Bauer Media, was interviewing Witherspoon, Oprah Winfrey and Mindy Kaling for the release of A Wrinkle in Time – Disney's latest offering, which premiered in London on Tuesday evening.
The 26-year-old started off the interview by declaring herself a massive fan of all three women, but confiding that she had actually spent many hours studying Witherspoon – watching Legally Blonde in the region of 800 times.
Witherspoon's face shows a mixture of genuine shock and delight when she is handed the pink-ribbon bound dissertation.
"Really?!… That's so sweet," gasped Witherspoon in disbelief, as she shuffles forward eagerly on her seat to receive the document.
"Thank you – that really touches my heart," gushed the star.
Ford says that before handing over her dissertation, "I was nervous. Like REALLY nervous.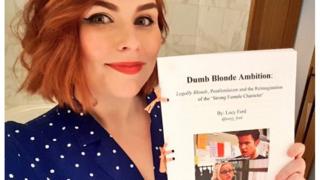 "As if it isn't intimidating enough to be in a room with one of these women – let alone all three. They are all heroes of mine."
Ford continues: "I'd been wanting to interview Reese for a long time – and finally the opportunity came up. I floated the idea of showing my dissertation to her in my production meeting as a joke. But my editor thought it would be a nice thing to do."
The entertainment reporter says she readied herself for a lukewarm – or even disappointing – reaction and had set her expectations pretty low.
"In this industry I know full well that meeting your hero isn't always great, so I prepared myself for it to backfire,
But far from it, the three women appear delighted, with Witherspoon even asking one very important question at the end of the interview.
"Is it scented?" the star asks – referring to her Legally Blonde character's trait of perfuming her work before submission – and creasing up when Ford replies in the affirmative.
"It was a really sweet moment," says Ford – and it seems plenty of others agree. At the time of writing, the Twitter moment has received almost half a million views
"I honestly thought that I would be the only one who would care, but watching back her reaction and seeing the attention from elsewhere has been incredibly touching."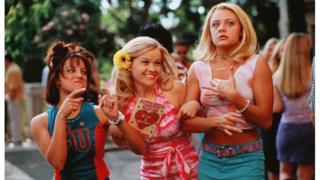 Legally Blonde is the story of Elle Woods, a glamorous blonde with a penchant for bubblegum pink and manicures.
The film follows her as she is accepted to Harvard Law – chihuahua and all – and struggles to fit in because of the way she looks.
The story sees her battle against the preconceptions others have about her, to graduate top of her class, overturn a miscarriage of justice along the way AND get the guy – all while remaining true to her bubbly, pink personality.
Ford, while in the third year of her University of Leeds' cultural studies degree, says she struggled to find anything she wanted to write her dissertation on.
She says she was watching Legally Blonde the day of her submission deadline and decided the film would be the topic she picked.
"The dissertation analyses the portrayal of strong women on screen and how they had frequently been limited," Ford explains. "It's about how strong or clever women were often portrayed as masculine – but how Elle Woods dispels those ideas.
"Femininity has been a way of dismissing women's achievements," Ford says, going on to add: "And I think these themes have never been more current."
Ford says since her Reese Witherspoon moment, people on Twitter have sent her the front covers of their dissertations on popular culture and have even asked for a link to her essay.
"People have sent me their subjects including Disney princesses and the Spice Girls, which sound really interesting and I'd love to read," she says.
"I've even had people on Twitter quoting lines of my own dissertation to me!"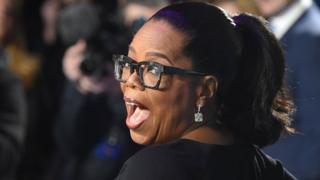 Ford says, after the camera had stopped rolling, Witherspoon was flicking through her dissertation and pointed out to Oprah "Oh you're in it too!".
After leaving the room with the two superstars sat heads together looking at the pages, Ford says: "I've fully peaked. I don't know what I can do to top this."
But as Elle Woods would say: "You must always have faith in people. And most importantly, you must always have faith in yourself."
(Oh, and in case you were wondering, Ford – in true Elle style – got a first for her dissertation. Natch.)
You may also like:

Follow us on Facebook, on Twitter @BBCNewsEnts, or on Instagram at bbcnewsents. If you have a story suggestion email entertainment.news@bbc.co.uk.
BBC News Source Link
Brought to you by Planet Genius
If You Liked This Article, Join our Newsletter To Receive More Great Articles