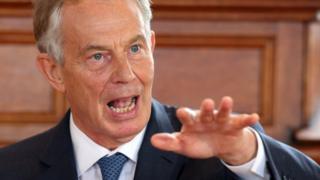 Former prime minister Tony Blair has said "we should keep our options open" on the UK leaving the European Union.
He told the BBC the 48% who had voted to Remain felt "disenfranchised" and it was not clear "what we are moving to".
He said as the details of what Brexit meant for the country began to emerge: "If the will of the people shifts, why shouldn't we recognise that?"
Prime Minister David Cameron and Labour Leader Jeremy Corbyn have both ruled out a second EU referendum.
When asked on Radio 4's The World This Weekend whether "keeping our options open" meant a second EU referendum, Mr Blair replied: "It means whatever we decide it should mean as we see how this debate develops."
But he said the case for leaving the EU had "crumbled".
He added that when the practical effects of the UK's decision to leave the EU became clearer, "then Parliament's got a role, the country should carry on being engaged in this debate, it should carry on expressing its view…
"We are sovereign. Let's just keep our options open."
BBC News Source Link
Brought to you by Planet Genius
If You Liked This Article, Join our Newsletter To Receive More Great Articles