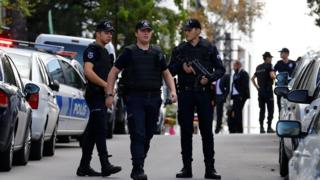 A man wielding a knife has been shot and wounded by security officials outside Israel's embassy in the Turkish capital, Ankara.
Israeli officials said he had tried to storm the embassy.
No-one at the embassy was hurt, Israeli officials say. Local reports said staff took refuge as the attack began.
Several embassies in Ankara were closed late last week amid reports of a possible militant attack.
Turkey has been caught up in a series of deadly attacks in the past year, by jihadist group Islamic State and Kurdish militant groups.
BBC News Source Link
Brought to you by Planet Genius
If You Liked This Article, Join our Newsletter To Receive More Great Articles